Jump to navigation
Jump to search
This is the first and easiest dungeon out of them all. A note beforehand: you cannot recruit any Pokémon here, even if you have their Friend Area. There is also no chance of finding a Monster House, shop, or buried item in this dungeon.
Pokémon in Peril
[
edit
]
Before you head into the dungeon, a Butterfree flies up to you and tells you that her "precious Caterpie" has fallen into a deep fissure in the ground. You and your partner accept the rescue mission.
In the Dungeon
[
edit
]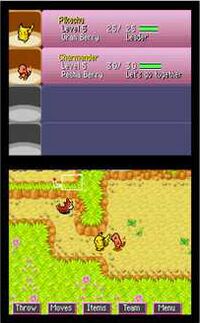 This is a very basic dungeon, as you probably expected. There are typically no more than eight rooms per floor. There are basic items and basic enemies here, with most enemies around level 3 (there are no levels, you have probably noticed, for enemy Pokémon, so this is an educated guess). So search the 8 or so rooms in the dungeon for items and Exp., and head for the stairs when you're ready.
Please note that all items are randomly generated, so this is a general summary of the common items.
Enemies
[
edit
]
The Last Floor
[
edit
]
After you exit B3F, you will find a very scared Caterpie at the other end of the room. You will automatically walk over to him and rescue him. You will then warp back outside, and a grateful Butterfree will give you an Oran, Pecha, and Rawst Berry.