Jump to navigation
Jump to search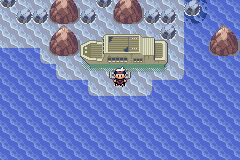 The Abandoned Ship is at Route 108, in the sea between Dewford Island and Slateport City. Enter it and keep using your Itemfinder to collect fallen items which include the keys to various doors of the ship. You will also find the only Luxury Ball of the Game here. This Poké Ball ensures that the Pokémon captured will be friendly.
To fully explore the ship, you will need the Dive HM.
Harbor Mail - 1F, northwest room of the eastern part
Revive - 1F, north room of the western part
Dive Ball - B1F, in the room with the broken door
Escape Rope - B1F, southwest room
TM13 (Ice Beam)(needs Storage Key) - B1F, northeast room
Storage Key - Captain's office
Once you have HM move Dive, through the lower middle room of the basement you'll find a path to another section of the basement with six rooms where you can also collect the following:
Room 1 Key - in Room 3, hidden in the northeast corner
Room 2 Key - in Room 5, hidden below left trash can
Room 4 Key - in Room 1, hidden on the left side
Room 6 Key - in Room 4, hidden in the trash can
Water Stone - in Room 3
TM18 (Rain Dance) - in Room 1
Luxury Ball - in Room 6
Scanner - in Room 2; may be traded to Captain Stern for a Deep Sea Tooth or Deep Sea Scale.
Pokemon Found
[
edit
]