Jump to navigation
Jump to search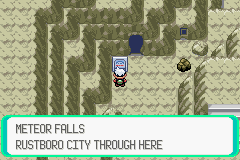 New Pokémon
Ruby
Emerald
Sapphire
Solrock


Return with Waterfall:
Bagon

Lunatone


Return with Waterfall:
Bagon
Meteor Falls (Japanese: りゅうせいのたき Meteor Waterfall) is a large cave west of Fallarbor Town with a waterfall inside, packed full of craters from the Meteors that fell here (who could've guessed?).
Another encounter with the Teams
[
edit
]
As you enter and go down the path, you'll find Professor Cozmo, who we talked about before. He'll be surrounded by a bunch of Grunts from either Team Aqua or Magma, depending on which version your playing, along with the corresponding Team Leader. After an encounter with the other team showing up, the antagonistic team will run off with a Meteorite, to the top of Mt. Chimney. The second team will give chase, and Cozmo will thank you for saving him. From here, you can continue through the rest of the cave to the top of Route 115 (connecting to Rustboro City), or turn back and move forward to Mt. Chimney (accessible via the cable car on Route 112). Professor Cozmo will return to his home in Fallarbor Town.
Return Visits
[
edit
]
Come back after defeating all 8 Gyms to access the rest of the Falls with Surf and Dive. There'll be multiple new rooms to explore, more trainers to fight, and a new pokémon to catch: Bagon.
Everyone Loves Secret Bosses
[
edit
]
In Pokémon Emerald, Steven also makes an appearance here. His Pokémon's strength surpass even that of the Champion's, and he acts as a sort of secret final boss in the game. The only requirement to battle him is to have the necessary HMs to reach him, and to have become the Champion of Hoenn Pokémon League by defeating the Elite Four. And all of his Pokémon are incredibly tanky. Oh, and he also has 4 full restores. Expect a long battle.
Skarmory
[
edit
]

Skarmory is Steven's first Pokémon, and has the second highest level of them all at 77. It's typings are Steel and Flying, which limits the number of effective moves seriously. It's ability is Keen Eye, which prevents loss of accuracy.
For moves, it has Toxic for coverage, Aerial Ace and Steel Wing for STAB, and Spikes to punish you if you try swapping in anything that doesn't have the Ability Levitate or isn't Flying type.
Your best bet by a country mile will be any Electric or fire type move, as Skarmory is 2x weak to both types of attacks.
Claydol
[
edit
]

Steven's Claydol is level 75, and has the typings of Ground and Psychic. It has plenty of weaknessed as Water, Grass, Ice, Bug, Ghost and Dark are all super effective against it. Claydol's ability is Levitate, making all Ground type moves and any arena-trap moves like Spikes useless against it.
As for moves, it has Reflect to block your attacks, Light Screen to temporarily raise the SP.DEF of itself for 5 turns, Ancient Power for coverage, and Earthquake to ruin your day (and STAB too I guess).
There is a wide range of types that are effective against Claydol, so pick and choose your favourite. Recommended ones are Grass, Water, and Dark.

Aggron is Steven's number 3, at level 76. It's typings, Rock and Steel, are notorious for the sheer amount of resistances they get. In fact, the only weaknesses it has are to Fighting (x4), Water (x2), and Ground (x2). Aggron's ability is Sturdy, preventing it from being OHKO'd right off the bat.
This land tank's moves are Dragon Claw for coverage, Earthquake for its humongous damage, and Thunder and Solar Beam to make life miserable for Water types in particular.
Thankfully, it doesn't have anything that is especially terrifying to Fighting types (excluding Earthquake), so the Fighters are the way to go here.
Cradily
[
edit
]

For Pokémon #4, Steven has Cradily. It's typing are a rather unusual Rock/Grass dual type, providing some interesting weaknesses and resistances. It's ability is Suction Cups, which negate the forced-switching effect of moves like Roar and Whirlwind.
Cradily's moves are: Confuse Ray, to confuse your Pokémon, Ingrain to regen a small amount of health each turn, and Giga Drain and Ancient Power for STAB and to regen a large amount of health in a single turn.
Types to use against it are Fighting, Steel, Bug, and Ice.
Armaldo
[
edit
]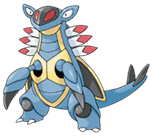 Just two more Pokémon to go, and the first of those two is Armaldo. As a Rock/Bug type, it also has a unique resistance table. It's ability is Battle Armour, which prevents and and all Critical Hits against it.
It has the notable distinction of having a surprisingly wide coverage range thanks to its moves - Slash, Water Pulse, Aerial Ace, and Ancient Power - making it able to handle most types with relative ease.
The best types to take it out are Rock, Steel, and Water.
Metagross
[
edit
]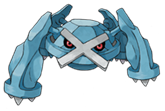 Like most things, Steven leaves the scariest for last. Metagross is level 78, the highest level Pokémon of any trainer in the game (excluding Battle challenges). It is also the only one of Steven's Pokémon to hold an item: a Sitrus berry to heal itself by 30 HP. Metagross' ability is Clear Body, which prevents it's stats from being lowered from any source. And it's typing is Steel Psychic, which is even more terrifying than Claydol's Rock/Psychic.
For moves, Metagross has Earthquake, Psychic, Meteor Mash, and Shadow Ball. Thanks to its incredibly high ATK, Earthquake is capable of wiping your entire team on its own. And while it's SP.ATK is quite a bit lower, that doesn't mean that you should rest easy if it uses Psychic or Shadow Ball.
The best moves to defeat this monster are Fire and Ground.
Wild Pokémon
[
edit
]
Ruby
Level
Encounter Rate
Sapphire
Level
Encounter Rate
Emerald
Level
Encounter Rate
Floor 1F-1
Zubat
14-20
80%
Solrock
14, 16, 18
20%
Lunatone
14, 16, 18
20%
Solrock
14, 16, 18
20%
Surfing
Zubat
5-35
80%
Solrock
5-35
20%
Lunatone
5-35
20%
Solrock
5-35
20%
Old Rod
Magikarp
70%
5-10
Goldeen
30%
5-10
Good Rod
Magikarp
60%
10-30
Goldeen
10-30
20%
Barboach
10-30
20%
Super Rod
Barboach
20-45
100%
Floor 1F-2 and 1F-3
Golbat
33, 35, 38, 40
65%
Solrock
33, 35, 37, 39
35%
Lunatone
33, 35, 37, 39
35%
Solrock
33, 35, 37, 39
35%
Surfing
Golbat
30-35
90%
Solrock
5-35
10%
Lunatone
5-35
10%
Solrock
5-35
10%
Old Rod
Magikarp
5-10
70%
Goldeen
5-10
30%
Good Rod
Magikarp
10-30
60%
Goldeen
10-30
20%
Barboach
10-30
20%
Super Rod
Barboach
25-35
80%
Whiscash
30-45
20%
Floor 1F-4
Golbat
33, 35, 38, 40
50%
Solrock
35, 37, 39
25%
Lunatone
35, 37, 39
25%
Solrock
35, 37, 39
25%
Bagon
25, 30, 35
25%
Surfing
Golbat
30-35
90%
Solrock
5-35
10%
Lunatone
5-35
10%
Solrock
5-35
10%
Old Rod
Magikarp
5-10
70%
Goldeen
5-10
30%
Good Rod
Magikarp
10-30
60%
Goldeen
10-30
20%
Barboach
10-30
20%
Super Rod
Barboach
25-35
80%
Whiscash
30-45
20%
Floor 1F-5 (Steven's Room)
Golbat
33, 35, 38, 40
65%
Solrock
33, 35, 37, 39
35%
Full Heal - North of entrance
Moon Stone - From most north-western section, up two sets of stairs
TM23 (Iron Tail) - Northwestern-most hill in the first room, accessed via B1F (requires Surf, Waterfall)
PP Up - Southeastern hill of the first floor, accessed via the basement (requires Surf, Waterfall)
TM02 (Dragon Claw) - In the dead-end back chamber of the basement (requires Surf, Waterfall)
Ruby and Sapphire
[
edit
]
Emerald
[
edit
]