Jump to navigation
Jump to search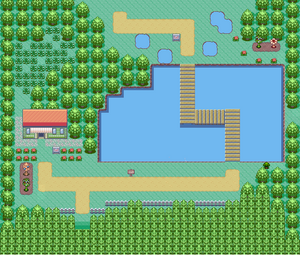 When you get out of Petalburg Woods, you will end up in the north side of Route 104. There are four Trainers to be found here, including your first double-battle in the game.
Flower Shop
[
edit
]
The Pretty Petal Flower Shop is a useful place in the game. The first time you visit, you can get a Wailmer Pail. You can use the pail to help grow berries that you planted on the soft soil patches across Hoenn. These soil patches appear at every Berry tree location. Once you pick the Berry, the patch opens up for future planting. A bit later on in the game, this is a good place to get furniture for your Secret Base. There is also a girl who will give you a random Berry once per day.
Buying Plants
[
edit
]
After defeating Wattson at the Mauville Gym, you can return to the shop and purchase secret base decorations.
| Plant | Price |
| --- | --- |
| Red Plant | 3000 |
| Pretty Flowers | 3000 |
| Big Plant | 5000 |
| Tropical Plant | 3000 |
| Colorful Plant | 5000 |
| Gorgeous Plant | 5000 |
Trainers
[
edit
]
Fighting Lady Cindy or Rich Boy Winston will give you a

1,400 reward for an easy battle. He/she has a Level 7 Zigzagoon, which an average Pokémon of level 7 or a few at the average level of 6 will easily take down. Use a strong attack such as Double Kick that can be found at Level 16 when Torchic evolves into Combusken, or, if you didn't take Torchic as your starter, Treeko's Absorb or Mudkip's Water Gun would take this Pokémon out before you know it.
Ruby and Sapphire

Lady Cindy
Emerald

Rich Boy Winston
Ruby and Sapphire

Lass Haley
Emerald

Lass Haley
Ruby and Sapphire

Twins Gina and Mia
Emerald

Twins Gina and Mia
Ruby and Sapphire

Fisherman Ivan
Emerald

Fisherman Ivan
Don't worry about the items that require Cut yet. Come back when you beat the first gym.
TM09 (Bullet Seed) - from boy at loamy soil
Oran Berry x2 - soft soil patch in front of the Flower Shop
Cheri Berry ×2 - soft soil patch in front of the Flower Shop
Wailmer Pail - from the flower shop owner
Poké Ball - hidden in patch of short grass north of flower shop
Potion - in patch of short grass north of flower shop
Super Potion - hidden in patch of short grass north of flower shop
Chesto Berry - from the Old Lady northeast of the pond
Leppa Berry ×2 - soft soil patch northeast of the pond
Cheri Berry ×2 - soft soil patch northeast of the pond
X Accuracy - southeast of the pond (requires Cut or Surf)
PP Up - in the trees on the east side of the pond (requires Surf)
White Herb - receive from a woman outside the Flower Shop after earning the Dynamo Badge
Pokémon found (water)

| Sapphire | Encounter Rate | Ruby | Encounter Rate | Emerald | Encounter Rate |
| --- | --- | --- | --- | --- | --- |
| Magikarp (Old, Good, and Super Rods) | 100% All Rods | Magikarp (Old, Good, and Super Rods) | 100% All Rods | Magikarp (Old, Good, and Super Rods) | 100% All Rods |
| Wingull | 95% Surfing | Wingull | 95% Surfing | Wingull | 95% Surfing |
| Pelipper | 5% Surfing | Pelipper | 5% Surfing | Pelipper | 5% Surfing |