Jump to navigation
Jump to search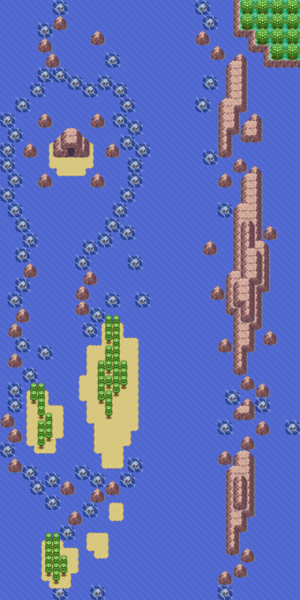 Now that you know Surf, you'll get an opportunity to capture Pokémon, gather items and battle trainers.
Pokémon Found
[
edit
]
Heart Scale - hidden on the northern-most sand-only islet
Iron - southern-most island
Big Pearl (Emerald only) - hidden on the island with Bird Keeper Josue and Ruin Maniac Andres
Trainers
[
edit
]


On the western edge of this waterway, you'll encounter a long vertical island. Search it to find a trainer.

Once you beat Foster, Surf on the west side of this island. Beat this trainer:

Surf up to the rock formation to the north, this one will turn into a cave (Island Cave) when you decipher the message in the Sealed Chamber. Make sure to return here. For now, continue south. At the southern tip of the island is a trainer.

Surf south, sticking to the western rocks. Search the islands to find an Iron. Then continue south to Route 106.