Jump to navigation
Jump to search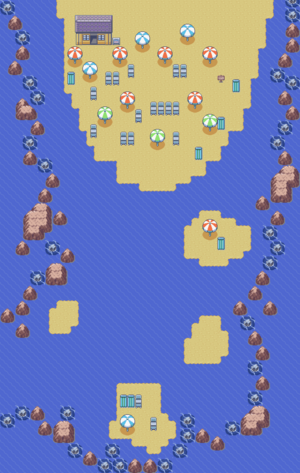 Slateport Beach
[
edit
]
As soon as you arrive you will be in Slateport's beach and will encounter more than a couple trainers on your way up to the city. Talk to the little girl with the pink inner tube and she will give you a Soft Sand just for talking to her. The trainers aren't a big deal but will offer some experience points which will be useful in your next encounter with Aqua/Magma.
Seashore House
[
edit
]
At the north west part of the beach is Seashore House. The owner of this house loves watching heated battles, and if you can defeat all the trainers in the house, you get 6 Soda Pops!
Great Ball - South west of the Seashore House, under the blue towel laying on the beach (Hidden)
Ether - On the south-east corner, directly south-east of the two children, and east of the beach towel (Hidden)
Revive - At the southern portion of Route 109 beach. It is one square north of Mr. Briney's landing point and five squares west (Hidden)
Heart Scale - South of the Seashore House, under the green parasol (Hidden)
Heart Scale - One square north of the old man with his Zigzagzoon (Hidden)
Soft Sand - From a young girl on the southeast of the shore
Soda Pop x6 - Reward for beating all Trainers in the Seashore House
Return with Surf
[
edit
]
Come back with Surf for a few more goodies and experience.
More trainers
[
edit
]
More items
[
edit
]
Heart Scale - On the island with Mel & Paul (Hidden)
PP Up - On the eastern island
Pokémon found
[
edit
]