Jump to navigation
Jump to search
New Pokémon
Ruby
Sapphire
Emerald
Oddish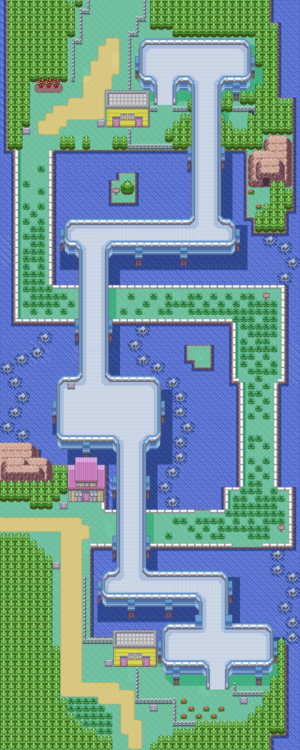 Route 110 is a route between Slateport City to the South, and Mauville City to the North. There are a bunch of new Pokémon you can catch here, as well as lots of trainers to battle. There's two paths that you can take, the lower, grassy route, or the cycling road, which is only available for bikers. Since you don't have a bike just yet, you can only go the lower route.
There are two trainers before the path splits, one of them only in Emerald.
The Trick House
[
edit
]
There's a house on this route called the Trick House, and it's the residence of a guy who goes by the name of Trick Master. He challenges any curious and bright trainer with a variety of different puzzles, from alternating access switches to trivia quizzes, but only if the trainer manages to spot him in the entrance room. Beating the puzzle gets you an item. There are a bunch of different puzzles, so many that they get their own page. Are you up to the challenge?
The Scenic Path
[
edit
]
The lower path will be the only option available to you the first time you cross this route. There's a bunch of hidden items here, and, more importantly, your second rival battle. There is a Dire Hit around the first corner, while a Full Heal is located a few squares above the sign. You can find a Great Ball above the location where you fought your rival. In Emerald, two trainers guard a hidden Revive, while another pair of trainers guard an Elixir. Finally, you can obtain a Pokéball if you search the final stretch of the bottom route.
Rival Battle
[
edit
]
After you bend the first corner, you'll soon encounter your rival. While Emerald players might have battled him/her back in Rustboro City, this will be the second time Ruby and Sapphire players meet him/her. Be sure to have all of your Pokémon healed up, as this will be a challenging match unless you're over-levelled. Some have even said that it is the single hardest rival battle in any main series Pokémon game.
In Ruby and Sapphire
[
edit
]
The rival's starter pokémon will have it's own paragraph detailing strategies. Your rival will always have a water type, a grass type, and a fire type in this battle.
For players who chose Torchic or Treecko as their starter, his/her grass type will be Shroomish, while for players who chose Mudkip, it'll be Grovyle. Shroomish has an ability called Effect Spore, which paralyses the attacking pokémon if a physical move is used. This is problematic for pokémon like Taillow, which would be able to take the Shroomish out with Peck, but at the cost of Paralysis. Because of this, the best type move to use against Shroomish is Fire, as it is both Special attacking and Super-effective. If Fire-type moves are not available, then neutral Dark type attacks from pokémon like Poochyena or its evolved form Mightyena is recommended, as they are the only other available Special type attack that has Grass does not resist. As for it's own moves, the Shroomish has Tackle for coverage, Stun Spore for paralysing pokémon regardless of whether they attack or not, Leech Seed for recovering HP from your pokémon, and Mega Drain for the same purpose.
The water type your rival has is Wailmer for Mudkip and Treecko users, and Marshtomp for Torchic users. Their Wailmer has the ability Water Veil, which makes it immune from being burned. Its moves are Splash (for some reason), Growl (lowers your pokémon's ATK stat until the battle ends), Water Gun (benefits from STAB), and Rollout for coverage. While most pokémon you've encountered should do fine against Wailmer, some that excel at defeating it are Nincada, Shroomish, and Treecko, all thanks to their grass type moves. Electrike could also be used, but the chances of it having an attacking electric type move at its current level is low. Pokémon that you should avoid using here are Torchic and Geodude.
His/Her fire type is either Numel is your starter was Torchic or Mudkip, or Combusken if your starter was Treecko. Numel's ability is Oblivious, preventing stat changes, and it has a secondary ground typing, which makes it immune to all electric type attacks. However, it also makes it 4x weak against water type moves, making it barely a pebble tripping you up before the rival's starter if you have any water type mon (Marill, Tentacool, etc.) Naturally, pokémon such as Shroomish, Dustox, or any other grass or bug type should be avoided like the plague. As for moves, it has Growl to lower your ATK, Tackle to damage anything that resists or is not weak to Fire, and Ember for STAB.
The rival's starter if yours was Treecko is Combusken, at level 20. It's ability is Blaze, which increases the power of any Fire-type move by 50% if Combusken is below a third of its max health (when it's "in the red"). It's moves consist of Focus Energy for critical hit spamming, Peck for coverage, Ember for STAB, and Double Kick for STAB (only Ember benefits from Blaze). It also has naturally high Attack and Special Attack Stats, meaning that it's two STAB moves will do even more damage. Any grass, rock, dark, or bug type may as well begin digging their graves if brought out against this monster. Thankfully, however, it's weak against flying, psychic, ground, and water type attacks, which can be found in abundance on pokémon like Abra, Ralts, or Marill.
The rival's starter if yours was Torchic is Marshtomp, at level 20. It's ability is Torrent, which increases the power of any Water-type move by 50% if Marshtomp is below a third of its max health. It's moves consists of Foresight, which negates any of your attempts to heighten evasiveness, Bide to deal a large portion of damage to mons of most types at once, and Mud Shot and Water Gun to take advantage of STAB and its high ATK and SP.ATK stats. It is immune to Electric type attacks thanks to its Ground typing, but is 4x weak to Grass attacks too. Pokémon to avoid are rocl, electric, and fire types, while ones that are super effective against Marshtomp are grass types. Most other types are average against it.
The rival's starter if yours was Mudkip is Grovyle, again at level 20. It's ability is Overgrow, which increases the power of any Grass-type move by 50% if Grovyle is below a third of its max health. It's move consists of Absorb to both heal and take advantage of STAB, and Quick Attack, Pursuit, and Fury Cutter for coverage. It's SP.ATK is 85 like the other two mid-evolution starters, but what it excels in is speed, with a very impressive 95 base SPD stat. Thanks to this, it is highly likely that most of your team will be attacking second the entire time Grovyle is out, so make sure to end the battle quickly. Types to avoid are water, rock, ground, electric, and other grass types, while fire, poison, flying, bug, and ice types will be super-effective, with all other types being average.
In Emerald
[
edit
]
In Emerald, the rival's starter pokémon is exactly the same as in Ruby and Sapphire, and thus will not be talked about again. The other two pokémon the rival has, however, have completely changed.
If your starter was Torchic or Mudkip, then the rival's fire type will be Slugma, at level 18. Slugma's ability is Flame Body, which applies the BRN status effect to any pokémon who attack it with a Physical attacking move. It's moves are Yawn, to put your pokémon to sleep (has no effect if the target pokémon is already suffering from a status effect), Ember to benefit from STAB, and Smog and Rock Throw to provide coverage. As usual, ground, rock, and water types are best against Slugma.
If your starter was Treecko or Mudkip, then the rival's water type will be Wingull, at level 18. Wingull also has the added bonus of a secondary flying typing. Its ability is Keen Eye, which prevents accuracy reduction. The moves Wingull has is Growl to lower your ATK, Supersonic to confuse your pokémon, and Water Gun and Wing Attack for STAB. The only two types that deal more than regular damage to Wingull is Rock and Electric, but the latter of those deals quadruple the regular damage.
If your starter was Treecko or Torchic, then the rival's grass type will be Lombre. However, Lombre's grass typing is its secondary typing, with water being its primary. This makes it relatively special in this battle. Its ability is Swift Swim, which raises the SPD stat of Lombre if it is raining. Lombre's moves are Growl to lower your ATK, Absorb for healing and STAB, Astonish for coverage, and Nature Power as a wild card. The best types to use against Lombre is poison, flying, and bug types.
Defeating your rival will net you an Itemfinder. It will help you find hidden items, and you can immediately test it out on this route.
Cycling Road
[
edit
]
Once you obtain the bike, you can finally use the Cycling Road. It let's you avoid running into any wild Pokémon, but there are trainers looking for some battles.
Rate your cycling skills
[
edit
]
There is a cyclist at the southern end of the cycling road. If you have a Mach Bike, he will tell you how long it took to cross the road and how many times you bump into something, as well as comment about how well you cycled. His comment depends on how many hidden penalties you've scored. You earn one penalty for doing the following:
Taking more than 15 seconds to cycle through the road.
Taking more than 1 minute to cycle through the road.
Bumping into the wall or another cyclist once.
Bumping into the wall or another cyclist 100 times.
Of course, it is a good idea to attempt for a high score after you defeat all the trainers, as the time spent fighting them counts into the time taken for you to complete the challenge. You obtain no prize even if you get the best possible rating, though it is a fun way of testing yourself.
Pokémon found
[
edit
]
Dire Hit - In the grass at the first corner of the lower path
Full Heal - In the grass at the first corner of the lower path (Hidden)
Itemfinder - Obtained from rival
Great Ball - In the grass north of the location of the rival battle (Hidden)
Revive (R/S only) - In the grass two squares east of Collector Edwin (Hidden)
Revive (Emerald only) - Above two trainers near a sign (Hidden)
Elixir (Emerald only) - Located one square above two trainers that can result in a double battle
Poké Ball - At the last vertical portion of the lower path (Hidden)
Nanab Berry x9 - In the patch of soil on the Mauville side of the route
Rare Candy - On the small island in the center (Requires Surf)
New Pokémon
[
edit
]
#43 Oddish
#309 Electrike

This classic Pokémon might be cute, but it doesn't pack too much power, having Absorb as its only damaging move until level 24, when it evolves into Gloom and learns Acid. It does learn a couple of status-inducing moves like PosionPowder and Stun Spore. Oddish can evolve into Gloom, which can evolve into Vileplume if exposed to a leaf stone or Bellossom if exposed to a Sun Stone. Vileplume has better Special Attack while Bellossom focuses on Special Defense and is a pure Grass-type. Both have mediocre speed, but if they're fighting in sunshine, their speed doubles, giving them potential to be very strong.

This is likely one of the first Electric-type Pokémon you come across in the game. It can have Static, an ability that paralyses anything that attacks you with a physical move. It evolves in Manectric, a standard Electric-type with good Special Attack and Speed.
#311 Plusle and #312 Minun

Don't confuse these two with Pikachu, as they are a lot different. Plusle is easier to catch in Sapphire while Minun is more common in Ruby and Emerald. Plusle and Minun have an interesting synergy going for them during double battles, in that using both of them in battle will boost their Special Attack stat. They also possess Helping Hand, which improves their ally's attack power in a double battle. Using two Pokémon that have nearly the same moveset, stats and typing in a double battle is inadvisable, so you're better off pairing one with another Pokémon. Individually, they're both decent in battle, with Plusle specializing in Special Attack and Minun in Special Defense.
#316 Gulpin

This peculiar Pokémon learns three interesting moves by level up: Stockpile, Swallow and Spit Up. Stockpile lets you enhance the other two moves, increasing the power of Spit Up and letting you heal yourself with Swallow. It evolves into Swalot at level 26. It is decent in defensive stats, especially with Stockpile.