From StrategyWiki, the video game walkthrough and strategy guide wiki
The Gym Leader Castle lets you battle eight gyms taken directly from the Game Boy games, before you face the Elite Four and your Rival. To access a gym directly, select from the map.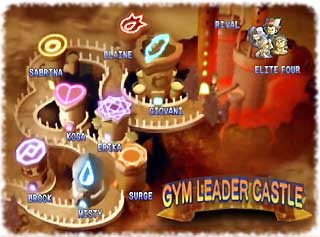 Brock: Pewter City
Misty: Cerulean City
Surge: Vermilion City
Erika: Celadon City
Koga: Fuchsia City
Sabrina: Saffron City
Blaine: Cinnabar Island
Giovanni: Viridian City
Elite Four: Indigo Plateau
Rival: Indigo Plateau
Open to all Pokémon, but you can only bring one of a type.
Enter with six Pokémon.
Choose three out of the six for each battle.
Gym Leaders normally use level 50 Pokémon. If you use any Pokémon over level 50, their Pokémon will be of the same level as your highest level Pokémon.
No two Pokémon asleep or frozen.
No selfdestruct move with last Pokémon.
Eight Pokémon can be won by beating each Gym.