From StrategyWiki, the video game walkthrough and strategy guide wiki
Avance Trail, the first route in your journey that contains tall grass. Wild Pokémon will often pop out from the grass, which you can battle to toughen up your Pokémon or catch to add a new Pokémon to your party. The Pokémon you will find on this trail are easy to catch and great to use for beginner trainers.
Pokémon catching tutorial
[
edit
]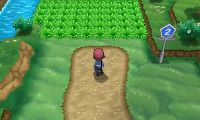 Soon after you step foot on Route 2, you will come across Calem/Serena and Shauna. Calem/Serena will demonstrate how to catch Pokémon. First, you have to weaken your target by attacking them until they're left with low health. Then, toss a Poké Ball at the Pokémon to catch it. Not only will you gain a new Pokémon for your team, your Pokémon will also get experience points as if they have actually defeated the Pokémon you caught. After the demonstration, Calem/Serena will give you 10 Poké Balls. That's more than enough to build up a good early team!
Trainers
[
edit
]
At the entrance to Santalune Forest, you will be challenged by another Pokémon Trainer. Whenever a trainer sees you, you will be challenged to a Pokémon battle where you cannot run. Be sure to look out for trainers along the path in the future if you wish to avoid a battle.
Pokémon Found
[
edit
]
| | X | Y |
| --- | --- | --- |
| Bunnelby | 20% | 20% |
| Fletchling | 20% | 20% |
| Scatterbug | 20% | 20% |
| Pidgey | 15% | 15% |
| Caterpie | N/A | 15% |
| Weedle | 15% | N/A |
| Zigzagoon | 10% | 10% |
#10 Caterpie
#13 Weedle
Caterpie is one of the staple early-game Bug-types, being more common in Pokémon Y. Caterpie evolves into Metapod at level 7, which evolves into Butterfree at level 10, gaining a Flying type when it does. While its stats are poor compared to most other Pokémon and it has a lackluster movepool before evolving into a Butterfree, its early evolution means that you can quickly raise a relatively strong Pokémon that will be useful for the early parts of the game. Butterfree mostly relies on special attacks and status-inducing moves, naturally learning moves like Psybeam, Silver Wind and Bug Buzz if you decide to keep it in your team long enough. It also learns Poison Powder, Stun Spore and Sleep Powder by level-up, and its ability Compoundeyes makes these normally inaccurate status moves more reliable.
Weedle is Pokémon X's counterpart to Caterpie, with it being more common in that game, although both Pokémon can be caught in both versions. Like Caterpie, Weedle evolves into Kakuna at level 7, which evolves into Beedrill at level 10. Weedle's entire evolutionary line is Bug/Poison, even though Beedrill gains wings. Compared to Butterfree, Beedrill is more of a physical fighter, with a higher Attack and lower Defense and Special Attack. Raising it to its final evolution is harder, since it is stuck with the weak Poison Sting until it turns into Beedrill. As a Beedrill, it naturally learns multi-hit moves such as Fury Attack, Twineedle and Pin Missile, as well as moves that are more effective when the opponent switches Pokémon like Pursuit and Toxic Spikes.
#16 Pidgey
#263 Zigzagoon
Pidgey is one of the two bird Pokémon, and it fittingly is part Flying-type. It evolves into Pidgeotto at level 18, which evolves into Pidgeot at level 36. As one of the earlier Pokémon, its stats are balanced, with Speed being its best stat. However, as a Normal/Flying type, it doesn't naturally learn any strong moves of its type until Level 33-38, when it learns Wing Attack. In the meantime, you have to stick with Gust, Quick Attack or Twister, which don't have much base power, or just teach it some TMs. Pidgey and its evolutions are also able to learn Fly, so they can be handy as an HM slave. However, if you're looking for a reliable long-term member for your team, it is far outclassed by Fletchling.
Zigzagoon is one of the first Normal-type Pokémon you can encounter. It evolves into Linoone at level 20. Normal types typically have few type weaknesses and is able to learn a variety of moves. Zigzagoon and its evolution in particular are quite notable for having the Pickup ability, which lets it pick up items occasionally when it isn't already holding one. It can also be taught three out of the five HMs in the game as well as Rock Smash, making it a great utility Pokémon. As for battling, it doesn't have particular good stats, but it does learn Belly Drum by level-up.
#659 Bunnelby
#661 Fletchling
Bunnelby is quite similar to Zigzagoon, in that it is a normal type, evolves at level 20, is common during the early parts of the game, can possess Pickup and can learn a couple of utility moves. However, it becomes part Ground-type once it evolves into Diggersby. Compared with Linoone, Diggersby trades speed and attack for btter HP and defenses. Its typing also lets it learn more Rock-type and Ground-type attacks from TM, as well as strong moves like Dig and Earthquake by level-up. Notably, it can also learn Super Fang naturally, which is very helpful for catching Pokémon.
Fletchling, like Pidgey, is a Normal/Flying type, but its evolutions are Fire/Flying, which gives it a bunch of additional resistances. It evolves into Fletchinder at level 17 and Talonflame at level 35. Fletchling and its evolutions are even faster Pidgey's line, having 126 base Speed, making them the fastest Fire-type Pokémon in the game. They also learn some good moves by level-up, getting Roost, Flame Charge, Acrobatics and the powerful Brave Bird. Fletchling's evolutionary family is one of the best in the game, and it will remain useful to you from your first gym to the Elite Four.
#664 Scatterbug
Scatterbug is the third early Bug-type you can catch, evolving a bit later but having better stats than the other two. It evolves into Spewpa at level 9, which evolves into Vivillon at level 12. Vivillon can be best compared to Butterfree, as they both have the same Special Attack stat, which also happens to be the best out of all of their stats. However, Vivillon has better stats overall, making it a better choice than Butterfree if you want a permanent or at least long-term Bug-type in your team. It also makes use of Compoundeyes better than Butterfree, being able to learn the powerful but inaccurate Hurricane by level-up. Powder is Vivillon's signature move, which lets it damage opponents using a Fire-type move against it while protecting itself from the attack, effectively negating one of its weaknesses. Finally, Vivillon's wing pattern varies depending on the location set on your 3DS system, a purely aesthetic feature but notable nonetheless.