Jump to navigation
Jump to search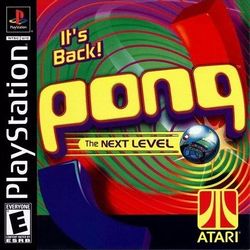 Pong: The Next Level is a remake of the game Pong.
Game Boy Color
[
edit
]
The Game Boy version supports four variations of Pong. In all variations, you need to score at least 11 points and lead by 2 points to win a match.
It also includes a Tournament Mode, proceeds through all four games before delaring the player a winner.
| | |
| --- | --- |
| Classic PONG | Follows the standard rules of Pong. to move faster. |
| Jungle PONG | The center sometimes spins, causing the ball to speedup or slow down. In addition, powerups occasionally appear on the board. |
| Arctic PONG | Two penguins wander up and down, deflecting the ball and sometimes releasing an additional one if they are hit. Powerups appear on the board randomly. |
| Soccer PONG | A second paddle is just infront of the net, and you must get the ball in the net to score. Powerups randomly appear. |
There are two powerups. One tilts your paddle, and the second allows you to catch the ball. Use

to switch to the straight paddle while a power up is active.