Jump to navigation
Jump to search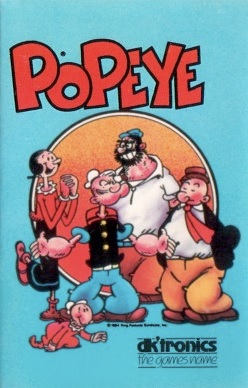 Popeye is a platform game which was initially released by DK'Tronics on the Sinclair ZX Spectrum in 1985, and later on the Amstrad CPC and Commodore 64 in 1986; it is not a conversion of Nintendo's 1982 arcade game (a ZX one was developed by Amazon Systems for Parker Brothers in 1984, but it was never released). Its designer, Don Priestley, later went on to design Benny Hill's Madcap Chase (starred the comedian of the same name, 1924-1992) and The Trap Door (based on the 1984 CMTB Animation and Queensgate Productions television series of the same name) for the same computers - and the latter also gained a sequel named Through the Trap Door that had two playable characters.
This is from the back of the cassette's inlay card, the front of which is shown in the image to the right:
Life's not all a bowl of spinach for Popeye as he hunts
for hearts to win the love of Olive Oyl. His rival, the
macho Brutus, is not amused. He thumps around
making pulp of Popeye.
Olive Oyl demands a never-ending supply of love!
Keep her sweet by collecting 25 scattered hearts and
handing them over. Take care to check Olive's
loveometer. When her love level starts to fade you
must restore it by delivering some of the hearts you
have collected.
© King Feature Syndicate Inc. 1985
Table of Contents