Jump to navigation
Jump to search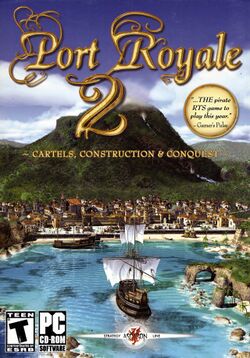 Port Royale 2 is the 2004 sequel to Port Royale. It is very similar in design to its predecessor, though it features many improvements over the original title.
Port Royale 2 is a sandbox business simulation game set in the Caribbean in the 17th century, in the stereotypical "pirates" era. The player's primary goal is to amass as much wealth and assets as possible. This is achieved through either honest trading and production of goods or by piracy and raiding (or a combination of the above). The player must cooperate or compete with the four main political powers in the region (the English, French, Spanish and Dutch), and with various pirates who operate in the region, in their quest for wealth and glory.
Despite its age, Port Royale 2 continues to be a timeless classic and a gem of the business simulation genre.
Table of Contents