Jump to navigation
Jump to search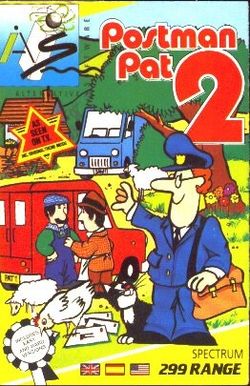 | | |
| --- | --- |
| Designer(s) | Jason McGann, Shaun G. McClure, Barry Leitch |
| Genre(s) | Action |
| Players | 1 |
| Modes | Single player |
Postman Pat 2: Phew, What a Scorcher (commonly referred to as just Postman Pat 2) is an action game that was developed by Enigma Variations for Alternative Software and released on the Sinclair ZX Spectrum, Commodore 64 and Amstrad CPC in 1989; oddly enough it was never released on the Commodore Amiga, and despite the number in its name, it is the third title in the Postman Pat series.
This is from the back of the cassette's inlay card, the front of which is shown in the image to the right:
It is a very hot day in Greendale and Pat's van has broken
down, so he has to walk to deliver all the letters. Pat will
get very thirsty so he needs lots of cups of refreshing tea,
otherwise he will have to go to bed to recover.
Luckily Sam will kindly offer Pat a lift in his van, if they
meet on their rounds. Pat must watch out for the "magpie"
hens who will try and steal his letters.
When Pat reaches the house of one of his friends, he may
find they need his help to solve a problem, so he will have
to collect an item seen on his rounds. If the item is broken
Pat will have to find Ted Glen the handyman to fix it.
© Woodland Animations 1989
Table of Contents