Jump to navigation
Jump to search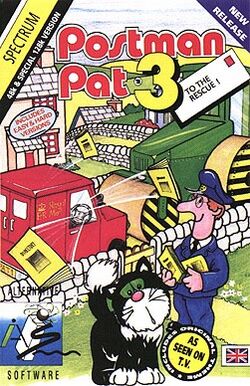 Postman Pat 3: To the Rescue (but commonly referred to as just Postman Pat 3) is an action game that got released by Alternative Software on the Sinclair ZX Spectrum, Commodore 64, Amstrad CPC and Commodore Amiga in 1992; it is, yet again, based on that Woodland Animations television series of that same name (which aired from September to December 1981, but gained two 10th-Anniversary specials in 1991), and despite the number in its name, it is the fourth (and the final original) title in the Postman Pat series. There would not be another Postman Pat game until the release of Postman Pat and the Greendale Rocket, the first one based on the new series, on the Game Boy Advance in 2007.
This is from the back of the cassette's (or disk's, in the case of the Commodore Amiga version) inlay card, the front of which is shown in the image to the right (Pat's van to be crushed by a steamroller):
The phone rings in Postman Pat's house, it's his old friend Delivery Man Dan
from Pencaster.
Dan tells Pat he has a problem, he has just received a large number of
parcels that need to be delivered by the end of the week but
unfortunately, Dan has broken his leg, can Pat help.
Pat, being the good sort that he is, agrees to help his friend by doing the
deliveries for him.
You drive Pat around the streets of Pencaster avoiding the many hazards and
obstacles, delivering the parcels in the time allowed, without
running out of petrol.
© Woodland Animations 1992
Table of Contents