From StrategyWiki, the video game walkthrough and strategy guide wiki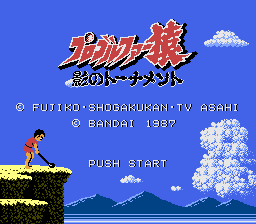 Pro Golfer Saru: Kage no Tournament (プロゴルファー猿 影のトーナメント, Pro Golfer Saru: Kage no Tournament? lit. Pro Golfer Saru: Tournament of Shadow) is a golf game with fantasy elements thrown in, developed by Bandai and published on the Family Computer Disk System in 1987. The game is based on a manga (Japanese comic book) known as Pro Golfer Saru published by Fujiko Fujio (also responsible for Doraemon) about a young cave man or neanderthal-like boy who desires to become the greatest golfer in history. To accomplish this goal, he trains in the most desolate of locations, driving golf balls over giant chasms in an effort to hit greens several hundred meters away.
The game is composed of a training mode as well as the tournament challenge. The first nine holes replicate the desolate, and almost prehistoric locations that Saru normally trains in. Balls must be driven over wide spaces in order to stay in bounds and continue play. The back nine holes take place is a more modern, and even slightly futuristic locale, where Saru must sink balls from across rooftops. The game will save one players performance to disk. It was never released outside of Japan. The series was revived with a brand new release for the Wii over 20 years later, in 2008.
Table of Contents