Jump to navigation
Jump to search
This is the first game in the Professor Layton series. For other games in the series see the Professor Layton category.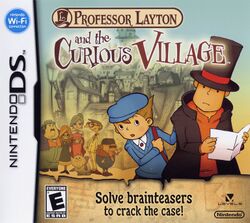 Neoseeker Related Pages
Links
Professor Layton and the Curious Village is a puzzle adventure game, that involves solving mysteries, developed by Level-5. It was published exclusively for the Nintendo DS by Level-5 and Nintendo in 2007.
The game starts off with English characters Professor Hershel Layton and his assistant Luke. They enter the village of St. Mystere to seek the "Golden Apple", left by Baron Reinhold whom had passed away, and they begin to see St. Mystere unfold into a larger predicament than they had imagined.
Table of Contents