Jump to navigation
Jump to search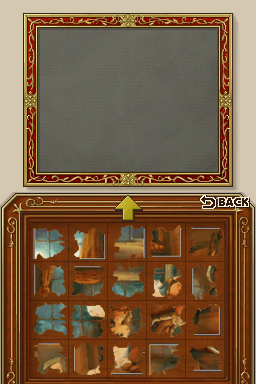 Once Matthew gives Layton the empty Painting Frame, Layton and Luke will begin to get painting scraps after solving puzzles. There are a total of twenty scraps. The painting section keeps track of the painting scrap side-quest. Whenever a scrap is found, it will automatically show up in this section. Tap on a painting piece to transfer it to the Painting Frame acquired from Matthew. On this screen, the scraps act like puzzle pieces.
To rotate a puzzle piece, tap and hold an edge of the desired piece with the stylus, then simply slide the stylus in a circular motion around the piece.
To move a puzzle piece, tap and hold the center of the piece with the stylus, then slide the piece to its destination.
Where to Find
[
edit
]
Puzzling
[
edit
]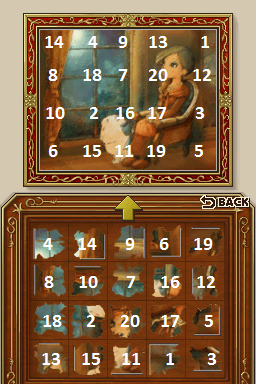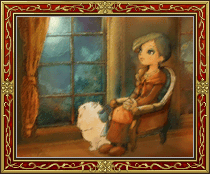 Once you got all 20 scraps, you can start putting the pieces together. Check the Image right to check which belongs where. The finished Painting should look like this (see pic to the left). If a piece is missing, then look the number up in the table to get it.
That is not all there is to it. Once you complete the Puzzle, you also gain access to the The Art Lover's House which have 3 new Puzzles ready for you.