Jump to navigation
Jump to search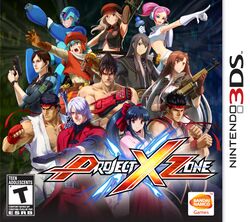 Neoseeker Related Pages
Links
Project X Zone (Project "Cross" Zone) is a tactical RPG for the Nintendo 3DS featuring characters from Capcom, Namco Bandai, and Sega games. It is a successor to Namco × Capcom. A sequel, Project X Zone 2, was released and included characters from Nintendo games. The opening animation was made by Trigger and the opening song for the Japanese release, Wing Wanderer, was sung by Yoko Takahashi.
20XX A.D. The world is engulfed in a quiet chaos. Shadows lurk behind the unchanging peacefulness of everyday life. Twisted beings writhe unseen in the darkness. Mysterious dimensional portals connect the real world to others more fantastic. But, with the passage of time, people have eventually come to understand and even accept these things as a part of their daily lives. All without knowing of the existence of the people and organizations fighting the true evil.
The Koryuji Estate. There is a certain family that has worked in secrecy behind the scenes throughout history. This story begins with the theft of a treasure known as the "Portalstone" that this family has been protecting over the ages. Mii Koryuji has enlisted the help of private detective Kogoro Tenzai in order to locate the treasure. Who stole the stone, and for what purpose? The ambitions of various people, organizations, and creatures have intertwined turning this incident into a great source of turmoil. The past, future, and even distant world from other dimensions have been drawn into what will become a long, long journey for our heroes.
Table of Contents