Jump to navigation
Jump to search
This is the first game in the Pushmo series. For other games in the series see the Pushmo category.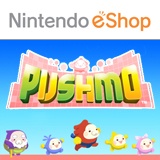 Pushmo, also known as Pullblox in Europe, is a puzzle game for the Nintendo 3DS's Nintendo eShop that was created by Intelligent Systems and released in 2011.
Players must move puzzle blocks in order to create steps and platforms in order to reach their goal. In addition to having over 200 levels, Pushmo gives players the ability to create their own levels and share them as QR codes.
Table of Contents