Jump to navigation
Jump to search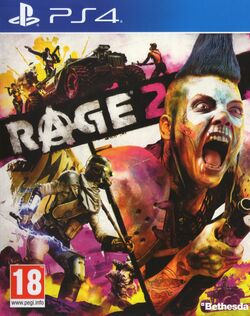 RⒶGE 2 is a first-person shooter video game developed by Avalanche Studios in conjunction with id Software and published by Bethesda Softworks. The game is the sequel to the 2011 game Rage. The game was released for Microsoft Windows, PlayStation 4 and Xbox One on May 14, 2019.
Players assume control of Walker, the last ranger, who must survive in a world inhabited by dangerous mutants after it was hit by the asteroid 99942 Apophis. The majority of humankind died, with only a dreary wasteland left behind. While new settlements and factions emerged, a group called the Authority declared themselves as the new military power. On a hunt for the precious nano technology in order to consolidate their dictatorship, Walker makes an ideal target. The game takes place 30 years after the original game, and features a cast of both new and existing characters.
Gameplay
[
edit
]
Players are free to explore the game's apocalyptic fiction open world. Players are given control over some of Walker's attributes, such as their gender, skills, or attire. Walker is able to wield various firearms and tools to fight against enemies, including returning weapons such as the wingstick. Players can develop Walker's skills with Nanotrite-based powers. Through a mode called Overdrive, Walker's guns do more damage, enemies drop more energy and they get healed constantly — providing players with an aggressive way to mow down enemies. Nanotrites from the first game, which act as special powers and ability boosts, can also be used to increase combat efficiency. The game also features vehicular combat, including trucks, buggies and gyrocopters, with the player being able to drive any vehicle in the game's world.
Table of Contents