Jump to navigation
Jump to search
This is the first game in the R.C. Pro-Am series. For other games in the series see the R.C. Pro-Am category.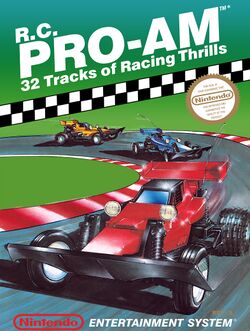 R.C. Pro-Am is a racing game developed by Rare and released for the NES in 1988. In this racing game, the player is not in the driver's seat but rather on the sidelines, using a remote control to operate the R.C. Cars and is shown an isometric out-of-vehicle perspective. The game's success led to the development of multiple sequels for both the NES and Game Boy platforms.
In this game, you must race and win 30 gold trophies to become the world's championship, but watch out! It gets harder as you process through the game and the racers are faster too, so you must be quick!
Table of Contents