Jump to navigation
Jump to search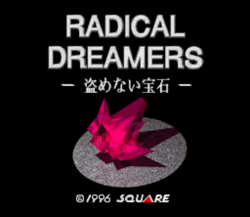 Independent wikis with more information:
Radical Dreamers: Nusumenai Hooseki (ラジカル・ドリーマーズ -盗めない宝石-, Radical Dreamers: Nusumenai Hooseki? literally Radical Dreamers -The Unstealable Jewel-) is a Japanese game produced by Squaresoft (now Square Enix) in 1996 for the Satellaview add-on for the Nintendo Super Famicom. It is a text-based visual novel in which the player takes the role of Serge, a young adventurer accompanied by Kid, a teen-aged thief, and Gil, a mysterious masked magician.
The game belongs to the Chrono series and is a gaiden, or side story, to the 1995 game Chrono Trigger. It was released to complement its predecessor's plot, and later served as inspiration for Chrono Cross. It features text-based gameplay with minimal graphics and sound effects, and was scored by composer Yasunori Mitsuda.
Radical Dreamers and other Satellaview titles were planned to be released at the Akihabara electronics district of Tokyo. Square also tried to integrate it into the Japanese PlayStation port of Chrono Trigger as an Easter egg. Writer and director Masato Kato halted both releases, unhappy with the quality of his work. Though the game was never officially released abroad, ROM hackers completed an English fan translation in 2003.
Table of Contents