Jump to navigation
Jump to search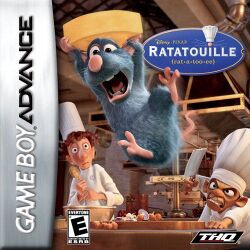 Neoseeker Related Pages
Links
For the PSP version, see Ratatouille (PlayStation Portable).
Ratatouille is a video game based on the Pixar film, of the same name. It was developed at Heavy Iron Studios and released by THQ, Nintendo (Nintendo GameCube only) and SCEA (PlayStation 2 and PlayStation 3 only) on June 26, 2007, two days before the first theatrical release in Russia. Ratatouille was initially released on twelve systems, making it the most comprehensive simultaneous cross-platform launch in THQ's history.
The game has a similar story to the movie, although there is a new area that is not seen in the film. You play as Remy, a rat living on a farm in the country. Remy dreams of becoming a chef, and apprentices himself to a kitchen in Paris after befriending the young garbage boy there. The game is mission based, and includes head-to-head multiplayer mini-games. The goal of the game is to learn the ins and outs of working in a kitchen and creating wonderful meals. Eventually, Remy must impress the food critic, and perhaps open his own kitchen.
Table of Contents