Jump to navigation
Jump to search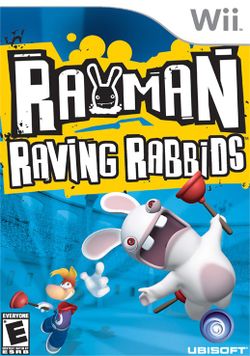 This guide is for the party game. For the GBA and DS platform game, see Rayman: Raving Rabbids.
Rayman Raving Rabbids, known in French as Rayman contre les Lapins Crétins (literally meaning "Rayman against the Moronic Rabbits"), is a spinoff of the Rayman series released by the French company Ubisoft as a Wii launch title. The game consists of 75 minigames. The game is primarily designed with the Wii Remote in mind, but it is also available on PlayStation 2, Windows, and Xbox 360.
Gameplay
[
edit
]
The game revolves around Rabbids who have taken over a TV station. You play mini games.
Table of Contents