Jump to navigation
Jump to search
This is the first game in the Red Dead series. For other games in the series see the Red Dead category.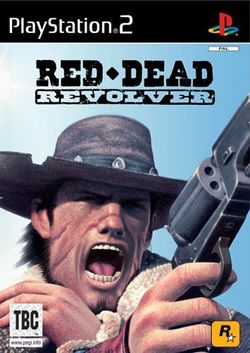 Red Dead Revolver is a western third-person shooter published by Rockstar Games and developed by Rockstar San Diego. It was released in North America on May 4, 2004, for the PlayStation 2 and Xbox.
The game's development stalled when it was dropped by Capcom. In 2002, Rockstar Games purchased the game and expanded on it. Changing from an American western to a Spaghetti Western allowed the developers to add more blood and over-the-top characters.
The lead character appears to be an amalgamation of various Clint Eastwood-inspired characters from assorted movies, mainly the Man with No Name character, with whom he shares many similar traits. The game reproduces a "grainy film" effect and uses music from various Spaghetti Western films, including those composed by Ennio Morricone.
Table of Contents