Jump to navigation
Jump to search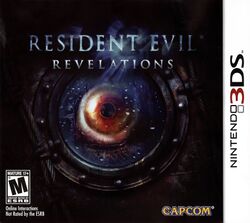 Resident Evil: Revelations, known as Biohazard Revelations (バイオハザード リベレーションズ, Baiohazaado Ribereeshonzu?) in Japan, is a action-adventure, survival horror, third-person shooter/first-person shooter game originally for the Nintendo 3DS. The game was developed by Capcom, and was released on January 26, 2012 in Japan; January 27, 2012 in Europe; February 2, 2012 in Australia; and February 7, 2012 in North America.
The game returns to the earlier series original survival horror gameplay which consists basically in limited supply of ammunition and more emphasis on exploration and puzzle solving than action and shooting, both of them being present in the latest entries of the franchise. The game's main story arc takes place between the events of Resident Evil 4 and Resident Evil 5, and allows the player to control the series' main characters Chris Redfield and Jill Valentine throughout the game. The game also allows the player to switch between a first-person and third-person perspective.
A high definition port of the game was released for Microsoft Windows, PlayStation 3, Wii U, and Xbox 360 in May 2013.
The game is set between Resident Evil 4 and Resident Evil 5. It depicts the events shortly after the establishment of the Bioterrorism Security Assessment Alliance (BSAA), a counter-terrorism group introduced in Resident Evil 5. The story revolves around BSAA co-founders Jill Valentine and Chris Redfield, the protagonists of the first Resident Evil. In 2005, BSAA head Clive R. O'Brian sends out Jill Valentine and her new partner, Parker Luciani, to search for Chris Redfield and his new partner, Jessica Sherawat.
Table of Contents