Jump to navigation
Jump to search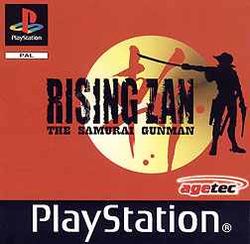 Neoseeker Related Pages
Links
Rising Zan is an 3D linear third person action-adventure game for PlayStation. The game is a little on the wacky side so serious gamers beware.
Johnny a gunslinger in the wild west found himself in a bad situation one day. Oriental enemies were attacking and he could not defeat his foes. He lost the battle and was saved by an old master of oriental origins. Johnny asked the master to teach him the way of samurai and the master agreed to the teaching.
The game has the player in control of Zan (previously Johnny) as he tries to rid the wild west of the oriental menace. Zan can shoot, use a sword and use a super thing that makes the sword bigger and more powerful and the gun faster. The super can be used when the bar is full. There are few mini games that must be completed. The game advances in stages and sometimes a boss must be defeated.
Table of Contents