Jump to navigation
Jump to search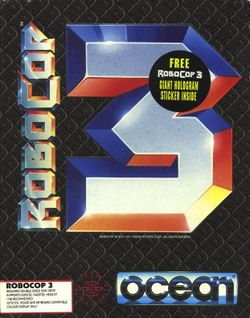 Neoseeker Related Pages
Links
For the NES version, see RoboCop 3 (NES). For the SNES version and its Sega ports, see RoboCop 3 (SNES).
RoboCop 3 is a 1992 video game published by Ocean. It is based on the movie of the same name. The Amiga, Atari ST and IBM PC versions of the game were developed by Digital Image Design, and were renowned and acclaimed for the 3D engine used. The more advanced version of this game for the Amiga, PC and Atari ST featured first-person car chases and first-person shooter sequences as well as a flying sequence.
There are two game modes "Movie Adventure" that follows a story-line and "Arcade Action" where the player can choose between five different single levels. The "Movie Adventure" mode opens up with a cut-scene (the cut-scenes are made with subtitled 2D panels and movies with a mix of 2D and 3D graphics) where a newscasts details how the building of the new Delta City is creating a new class of homeless people and a wave of crime by a new gang called "Splatterpunks". A new police unit named "Rehabs" have been set up in response to this.
Table of Contents