Jump to navigation
Jump to search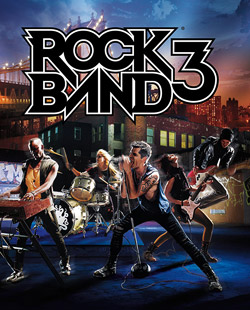 This guide is for the console version. For the Nintendo DS version, see Rock Band 3 (Nintendo DS).
Rock Band 3 is a 2010 music game developed by Harmonix. The game was initially published and distributed by MTV Games and Electronic Arts, respectively, in late October 2010. Mad Catz took over both roles and re-released the title on November 23, 2011. It is the third main game in the Rock Band series. As with the previous titles, Rock Band 3 allows players to simulate the playing of rock music and many other subgenres using special instrument controllers mimicking lead and bass guitar, drums, and vocals. Rock Band 3 expands upon previous games by including three-part vocal harmonies—previously used in The Beatles: Rock Band and Green Day: Rock Band (up to 3 singers on a song)— plus support for MIDI-compatible keyboards, electronic drumkits, and even use of a real guitar in "Pro" mode.
Distinguishing it from all previous rhythm music games, Rock Band 3 features "Pro" mode, which is designed to accurately mimic playing of real instruments. In Pro mode, real guitar and bass players have to match specific fingering on frets and strings, drummers have to strike cymbal pads in addition to snare and toms, and keyboardists have to use precise fingering across the whole keyboard. MadCatz manufactured a 102-button controller with 6 strings meant for bass and for lead guitar. Real instruments and original Basic controllers can be played simultaneously in various combinations within the game to simulate playing in a real band. Before a song starts, the players choose which instrument they will represent within the song. If the right note is hit or played, it is heard in the audio. If notes are missed, they are not heard.
The game includes a list of 83 songs, fully upgraded to Pro - many emphasize the keyboard instrument. Existing game content, including prior downloadable content and songs from the Rock Band Network, carry forward into the game, with the full Rock Band library reaching 2,000 songs at the time of game launch (surpassing 4,000 songs by the end of October 2012, almost a year after its re-release). Rock Band 3 is designed as a platform to take advantage of players' existing libraries by providing user-created set lists and challenges and tools to easily search and select songs from the library.
Rock Band 3 was initially released worldwide during the last week of October 2010 for the Xbox 360, PlayStation 3, Wii, and Nintendo DS. The game received universal acclaim from critics, with praise for the addition of keyboards that broadens the potential music library for the series and the revamped career structure to keep players invested in the title. The game's Pro mode was particularly highlighted by reviewers, who stated that the mode brings the rhythm game genre to the point of teaching players to learn real instruments and have fun doing so by disguising practice into gameplay.
Artwork
[
edit
]
Table of Contents