Jump to navigation
Jump to search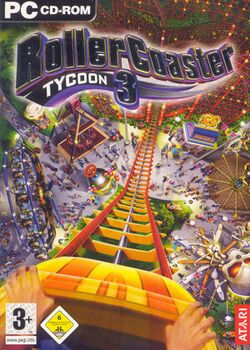 Neoseeker Related Pages
Links
RollerCoaster Tycoon 3, commonly abbreviated RCT3, is a strategy and simulation computer game. It is the third installment in the RollerCoaster Tycoon series, and was first released on October 26, 2004 in North America. RollerCoaster Tycoon places players in charge of managing amusement parks; rides can be built or demolished, terrain and scenery can be adjusted, and prices controlled to keep visitors or "peeps" happy.
Gameplay
[
edit
]
RollerCoaster Tycoon features two methods of gameplay. In career mode, players must complete predetermined objectives in predesigned scenarios. In the new sandbox mode, players have unlimited time and money to create their own custom parks. New additions include the ability to import and export custom attractions, design custom scenarios and peeps, an in-game recorder, and a fully three dimensional world players can view from all angles and has a new 3-D feature.
RollerCoaster Tycoon 3 Complete Edition
[
edit
]
RollerCoaster Tycoon 3: Complete Edition was released on September 24, 2020 for PC and Nintendo Switch. It includes an updated base game, with the Soaked! and Wild! expansion packs.
Table of Contents