Jump to navigation
Jump to search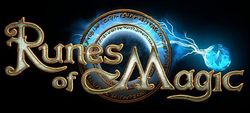 Runes of Magic is a free massively multiplayer online roleplaying game (MMORPG) developed by the Taiwanese developer Runewaker Entertainment and adapted for the English and German speaking market by German firm Frogster Interactive. It is currently in open beta phase, accessible by all via the internet, and due to go live on March 19, 2009.
Players create a character from one of six character classes, and explore the fantasy world of Taborea while undertaking quests and fighting enemies. There is an item-creation system and players can avoid combat altogether if they wish to play non-violently. Runes of Magic currently features more than 600 quests for players to attempt. Players may swap between classes, and each player has their own private dwelling.
The game's dungeons are split into three types; large player-versus-player open-world dungeons, small instances for six players and large instances for thirty six players.
Table of Contents