Jump to navigation
Jump to search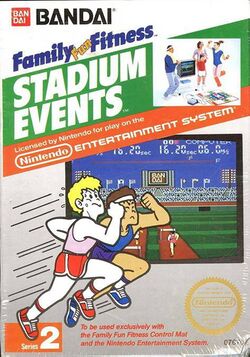 | | |
| --- | --- |
| Japanese title | ファミリートレーナーシリーズ2 ランニングスタジアム (Family Trainer Series 2: Running Stadium) |
| Genre(s) | Sports |
| Players | 1-2 |
Neoseeker Related Pages
Links
World Class Track Meet is a Nintendo video game designed by Bandai and was released in 1986 for use with the Power Pad feature of the NES. World Class Track Meet was sold alone or as part of a single cartridge also containing Super Mario Bros. and Duck Hunt. The game featured an Olympics-style competition, with events such as the 100m dash, 110m hurdles, long jump, and triple jump. Opponents were named after animals, the slowest being Turtle and the fastest being Cheetah.
Prior to being released by Nintendo as the Power Pad, Bandai test marketed their version of the peripheral in the North Central United States. Their first version was released only in Japan known as the Family Trainer, for which Bandai released 10 games . The second game in this series was known as Running Stadium (ランニングスタジアム), which was released on December 23, 1986. When Bandai released the accessory in the USA they renamed it as the "Family Fun Fitness" and it was released only in a limited number of Woolworths department stores alongside the one game compatible with the device, this game was released in the USA as Stadium Events. Shortly after release, Nintendo of America purchased the North American rights to the Family Fun Fitness and decided to market it themselves. Stadium Events was also renamed and repackaged under the title World Class Track Meet.
Despite the changes, the three games remain identical to one another, aside from the name change on the title screen. As a result of this, all Family Fun Fitness units and copies of the Stadium Events games were pulled from store shelves, making it without a doubt, the hardest to find licensed, released, game available on the NES. There are estimated anywhere from 300-800 copies in circulation, making it highly sought after and valuable among collectors. Loose cartridges currently fetch upwards of $1500 on eBay, and as high as $1775 USD. In June 2006, the only known factory sealed copy was auctioned off on US eBay for $3050, and in May 2007, a loose instructions manual for the game was sold for $875. There are less than 10 known complete copies (cartridge, manual, box) in collectors' hands.
Table of Contents