Jump to navigation
Jump to search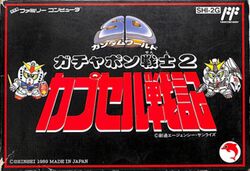 SD Gundam World: Gachapon Senshi 2 - Capsule Senki (SDガンダムワールド ガチャポン戦士2 カプセル戦記, SD Gundam World: Gachapon Senshi 2 - Capsule Senki?) is a war simulation game based on the "SD Gundam" series. It was developed by Human Entertainment for the Famicom and published in Japan by Bandai in 1989. It is the second of five games in the series, following SD Gundam World Gachapon Senshi - Scramble Wars. It was distributed on the Wii Virtual Console in February 15, 2011.
the game is a tactical turn-based war simulation in which each side uses their Gundam mechas to defeat the other and are occasionally aided by a "gachapon" - or capsule machine - that dispenses additional Gundams in a manner similar to their toy counterparts. A new "Mobile Suit Gundam Char's Counterattack" aircraft has been added.
The game was the first of the series to be released on a Famicom cart, as Scramble Wars was a Famicom Disk System-only game. As the capacity of the cartridge has increased, the number of maps (30 maps) and units has increased, and a new armed frame that can be used by pressing the A and B buttons at the same time has been provided. In addition, the shortcomings of the previous work have been further improved, and the number of units that can be moved in one turn has been increased to a maximum of 12, and the CPU thinking time has been significantly reduced.
Unit production can now be performed at factories other than the home base, and by occupying the factory, units can be produced in up to 7 locations (if the factory is occupied during unit production, it will be produced as the other unit. Will continue). This is the last work to fight in action format, and it wasn't brought back until Super Gachapon World: SD Gundam X was published.
Table of Contents
SD Gundam World: Gachapon Senshi 2 - Capsule Senki/Table of Contents