Jump to navigation
Jump to search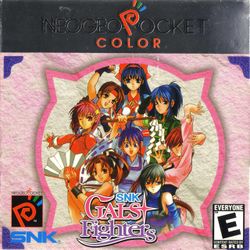 SNK Gals Fighters is a 2-dimensional 1-on-1 versus fighting game which appeared on the Neo Geo Pocket Color in 2000.
Gals Fighters features female characters from various SNK franchises, where the characters compete in the aptly named Queen of Fighters tournament, organized by a mysterious "Miss X", with whoever being able to defeat "Miss X" (in reality, Iori Yagami dressed as a woman) being given the K' Talisman, which grants any wish. The characters' sprites were drawn in the same anime super-deformed style as other fighters on the system.
The game plays similar to other NGPC fighting games, such as King of Fighters R-1 and R-2, although slightly faster, and with 1-on-1 matches. It also features items that a player can equip to influence the matches; many of the items, however, have no effect on the gameplay.
Table of Contents
Character Select
[
edit
]