Jump to navigation
Jump to search
Sachen is a Taiwanese company that developed several original games for the NES/Famicom and Game Boy (both without license from Nintendo), and other early cartridge-based handheld systems such as the Watara Supervision. Sachen is an alternate name for the company Thin Chen Enterprise. They switched to the Sachen name after officially becoming their own publisher and manufacturer. The last known Sachen releases were Game Boy Color ports of some of their later NES games released around 1999, although a compilation of many Sachen Game Boy titles was released by the Australian company Tru Blu Entertainment (a subsidiary of Home Entertainment Suppliers), in 2004.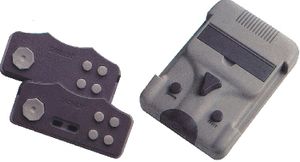 Originally producing titles for other unlicensed publishers, when Sachen began to independently publish and develop their own titles, many thought they would be the next Panesian (Hacker International). However, the low quality of the their games and relative lack of demand relegated Sachen to the realm of cult status for fans and collectors. Sachen manufactured their own unlicensed game cartridges, including 60 and 70 pin cartridges played on their self-created Q-Boy, an NES/Famicom clone. The Q-boy had limited production and was the first system created by an unlicensed publisher on which to play their own games.
Subcategories
This category has only the following subcategory.
Q
Pages in category "Sachen"
The following 9 pages are in this category, out of 9 total.