Jump to navigation
Jump to search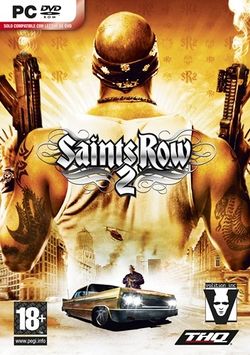 Saints Row 2 (abbreviated to SR2) is a sandbox-style action-adventure video game developed by Volition, Inc. and published by THQ. It is the second title in the Saints Row series. The game was preceded by Saints Row and a sequel to the game has been rumoured. Saints Row 2 was released in North America on October 14, in Australia on October 16 and in Europe on October 17 in 2008, for the Xbox 360 and PlayStation 3. A PC version of the game was released in North America on January 6, in Europe on January 23 and in Australia on February 5, in 2009. A smaller variant of the game has also been published for mobile phones. An episodic pack titled Ultor Exposed was released on April 23, 2009 for the Xbox 360 and PlayStation 3 systems, with a second and third pack also in development.
Since its release, Saints Row 2 has been generally praised by critics and fans alike and has received generally positive reviews. The game went on to gain numerous awards, including best freeplay game of 2008 by IGN and was given several mentions as one of the best games of 2008. However, there are common complaints of bugs and glitches and the PC port for the game was criticized for its poor performance. Also, the game has been known to freeze in some instances for all three ports of the game. As of January 2009, Saints Row 2 has had more than 2.6 million units shipped for all three ports.
The game follows the unnamed protagonist who leads a fictional hip-hop gang known as the 3rd Street Saints, to whom he followed in Saints Row until he was betrayed and landed in a trauma-induced coma after a staged yacht explosion. After escaping from prison five years later and bringing the Saints to power again, the protagonist takes on the gangs who now control the city Stilwater on a quest to bring it to the Saints' power, who had controlled it in Saints Row. The game is composed of elements from third-person shooters and driving games in open world gameplay. The main game can be played through in single-player or through online co-operative play. The game also contains competitive multiplayer modes.
This game features numerous improvements over the original, including a larger overall playing area, several new areas, improved combat mechanics, a wider selection of vehicles, diversions, activities and weapons.
Table of Contents