Jump to navigation
Jump to search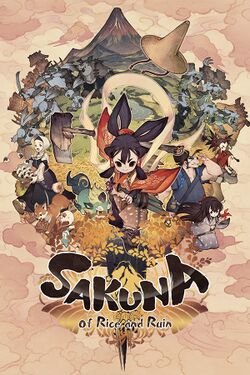 Sakuna: Of Rice and Ruin (天穂のサクナヒメ, Tensui no Sakuna Hime) is a game featuring 3D rice farming combined with 2D platforming and beat em' up genres. Growing rice empowers the game's protagonist, Sakuna, by allowing her to learn combat skills and increase her statistics. This makes dispatching the main antagonists of the game, demons, more effectively.
The rice cultivation is done in a 3D zone and runs at 30 FPS, while the combat is done in 2D side-scrolling platform levels running at 60 FPS.
Sakuna has been exiled from the Lofty Realm due to accidentally burning the rice offerings while chasing starved intruders from the Lowly Realm. To get her place in the Lofty Realm back, she has been tasked into defeating the demons and its source on Hinoe Island, along with the human intruders who are now her followers. Hinoe Island is a harsh place filled with evil demons, so it won't be easy.
As she arrives on Hinoe Island, she realizes her parents lived there and the house they used to stay was still maintained by the natives of the island. She takes over the house and starts operating a rice farm, all while fighting demons and foraging the land to get resources to survive.
Among her new followers is Tauemon, an ex-samurai that turned to banditry and is knowledgeable about farming, Kinta, a young boy from a line of craftmen, Yui, a little girl with skill in sewing, Kaimaru, a sensitive young boy with a speech impediment and Myrthe, a woman from a foreign land with a strong accent. There is also Tama, a mentoring dog-looking weapon spirit that used to belong to her father, the god of war.
As her living accommodations improve, Sakuna explores the island more, dispatches stronger and stronger demons and finally discovers the origin of the demons.
Table of Contents