Jump to navigation
Jump to search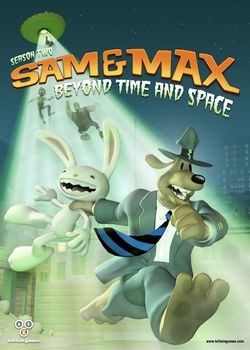 Sam & Max Beyond Time and Space, aka Sam & Max: Season Two, is an episodic series of adventure games by Telltale Games based around the characters of the Sam & Max comic series created by Steve Purcell and follows from Sam & Max Save the World. The first episode, Ice Station Santa, was released on November 8 on GameTap, followed by a worldwide release on November 9. As with Save the World in 2007, Beyond Time and Space was released on Steam on May 16, 2008.
Season Two builds on Season One with more dynamic NPCs, an updated engine, a hint system, support for widescreen monitors, more realistic animations, and more mini-games within each episode. Season Two features a calibration assistant when first run, which allows the player to set their graphics and difficulty settings before playing.
A remaster released in December 2021 features new cinematics and music, improved character models and lighting, and some re-recorded dialog.
Table of Contents