Jump to navigation
Jump to search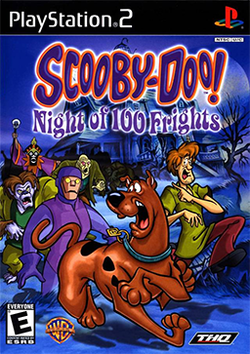 Neoseeker Related Pages
Links
Scooby-Doo! Night of 100 Frights is an action game, developed by Heavy Iron Studios for THQ and initially released for the Sony PlayStation 2 console on May 20, 2002 in the US, and August 16 of that same year in the EU; it was later released for the Nintendo GameCube on September 16, 2002 in the US and November 22 of the same year in the EU, and for the Microsoft Xbox in the US on August 27, 2003. It is the ninth title in the Scooby-Doo series, as well as the seventh American-made one (as the first two entries, Scooby-Doo and Scooby-Doo and Scrappy-Doo, were made in the United Kingdom).
This is taken from the back of the game cover, the front of which is displayed in the image to the right:
The Mastermind has kidnapped Mystery Inc., and it's up to
Scooby-Doo to search for his lost friends. Guide Scooby
through 12 huge levels that include a creepy mansion, a
spooky cave, a ghostly graveyard, and a perilous pier. As
you search for clues, you must avoid classic Scooby-Doo
monsters, use wacky inventions, eat Scooby Snacks, and
gather power-ups. Do you have what it takes to foil the
Mastermind's plan to rid the world of Mystery Inc.?
© Warner Bros. Interactive Entertainment Inc. 2002
Table of Contents