Jump to navigation
Jump to search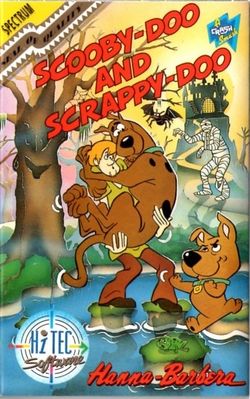 Designer(s)
Dave Thompson, Richard Morton (ZX/CPC),
David Saunders, Nick Taylor (C64),
Gary Antcliffe (Amiga)
Release date(s)

 1991

Genre(s)
Platform
Players
1
Modes
Single player
Scooby-Doo and Scrappy-Doo is a platform game that was developed by PAL Developments, and released by Hi-Tec Software upon the Sinclair ZX Spectrum, Amstrad CPC and Commodore Amiga, and by Digital Design on the Commodore 64 in 1991; it is based upon the Hanna-Barbera television series of the same name and stars their most hated character since "Gazoo" (from The Flintstones). However, there is a secret code that can be entered on the title screen of the Amiga version, to play the game with its original protagonist of "Stig the Rat", instead of Scrappy - and he has infinite lives.
This is from the back of the cassette's, or disk's in the case of the Commodore Amiga version, inlay card, the front of which is shown in the image to the right (note that Velma, Freddy and Daphne are not present as they did not appear in every episode of "The Scooby-Doo and Scrappy-Doo Show"):
You play the part of Scrappy-Doo
in this arcade-style platform
game. Make your way through
four levels of intrigue and
mystery in search of Scooby and
Shaggy, avoiding all sorts of
nasty baddies.
© Hanna-Barbera Productions Inc. 1991
Table of Contents