Jump to navigation
Jump to search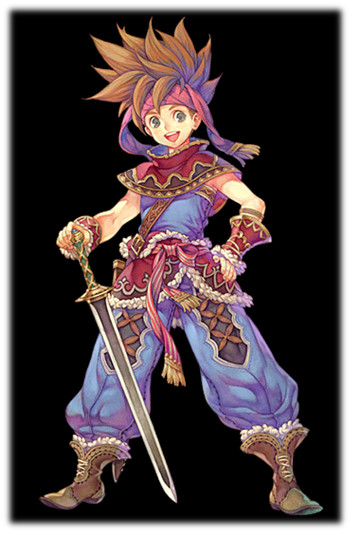 Randi is the main protagonist in Secret of Mana. He was adopted by the Elder of Potos Village after his mother had disappeared. Randi's default weapon is the sword. He is the most physically proficient member of the group, having the highest attack, defense and HP. As he has no magical ability whatsoever, this is counterbalanced by his weapon skill learning rate, in which he masters every weapon's special attacks the fastest of the trio.
Randi is an orphan raised by the Elder of Potos Village. One day he discovers the Mana Sword after falling off a log and down a waterfall to the river below. Randi is somehow able to remove the sword, and in doing so, summons monsters to the surrounding area, as well as his home, Potos Village. When he returns to the village, the other inhabitants are scared. When the Elder discovers that Randi has removed the sword from the stone, he believes Randi has brought doom to the village. A child in the village attacks Randi, causing him to fall into a pit where a large monster is waiting. After defeating the monster, the villagers insist that Randi leave, but a knight named Jema puts his faith in Randi and commands him to visit sage Luka in an effort to learn how to restore the Mana Sword and save the world from disaster. On his journey, Randi is joined by Primm, a hot-headed girl who wants to rescue a friend from the clutches of an evil witch; and Popoi, an energetic sprite child trying to regain his memory.
None; Randi is not capable of casting magic like his two allies.
Experience levels
[
edit
]
| Level | XP | HP | Strength | Agility | Constitution | Intelligence | Wisdom | Hit | Defense | Evade | Magic Defense |
| --- | --- | --- | --- | --- | --- | --- | --- | --- | --- | --- | --- |
| 01 | 0 | 50 | 15 | 15 | 13 | 5 | 5 | 78 | 13 | 3 | 5 |
| 02 | 16 | 59 | 16 | 16 | 14 | 6 | 6 | 79 | 14 | 4 | 6 |
| 03 | 47 | 69 | 17 | 17 | 15 | 6 | 7 | 79 | 15 | 4 | 7 |
| 04 | 105 | 79 | 17 | 17 | 16 | 7 | 8 | 79 | 16 | 4 | 8 |
| 05 | 204 | 88 | 18 | 18 | 17 | 7 | 9 | 79 | 17 | 4 | 9 |
| 06 | 363 | 98 | 19 | 19 | 18 | 8 | 9 | 79 | 18 | 4 | 9 |
| 07 | 602 | 108 | 20 | 20 | 19 | 8 | 10 | 80 | 19 | 5 | 10 |
| 08 | 945 | 117 | 21 | 21 | 20 | 9 | 11 | 80 | 20 | 5 | 11 |
| 09 | 1418 | 127 | 22 | 22 | 21 | 9 | 11 | 80 | 21 | 5 | 11 |
| 10 | 2049 | 137 | 22 | 22 | 22 | 10 | 12 | 80 | 22 | 5 | 12 |
| 11 | 2870 | 146 | 23 | 23 | 23 | 10 | 13 | 80 | 23 | 5 | 13 |
| 12 | 3914 | 156 | 24 | 24 | 24 | 10 | 13 | 81 | 24 | 6 | 13 |
| 13 | 5218 | 166 | 25 | 25 | 25 | 11 | 14 | 81 | 25 | 6 | 14 |
| 14 | 6819 | 175 | 26 | 26 | 26 | 11 | 15 | 81 | 26 | 6 | 15 |
| 15 | 8759 | 185 | 27 | 27 | 27 | 12 | 16 | 81 | 27 | 6 | 16 |
| 16 | 11080 | 195 | 28 | 28 | 28 | 12 | 16 | 82 | 28 | 7 | 16 |
| 17 | 13827 | 205 | 28 | 28 | 28 | 13 | 17 | 82 | 28 | 7 | 17 |
| 18 | 17049 | 214 | 29 | 29 | 29 | 13 | 18 | 82 | 29 | 7 | 18 |
| 19 | 20794 | 224 | 30 | 30 | 30 | 14 | 18 | 82 | 30 | 7 | 18 |
| 20 | 25115 | 234 | 31 | 31 | 31 | 14 | 19 | 82 | 31 | 7 | 19 |
| 21 | 30065 | 243 | 32 | 32 | 32 | 15 | 20 | 83 | 32 | 8 | 20 |
| 22 | 35701 | 253 | 33 | 33 | 33 | 15 | 21 | 83 | 33 | 8 | 21 |
| 23 | 42081 | 263 | 34 | 34 | 34 | 15 | 21 | 83 | 34 | 8 | 21 |
| 24 | 49265 | 272 | 34 | 34 | 34 | 16 | 22 | 83 | 34 | 8 | 22 |
| 25 | 57316 | 282 | 35 | 35 | 35 | 16 | 23 | 83 | 35 | 8 | 23 |
| 26 | 66298 | 292 | 36 | 36 | 36 | 17 | 23 | 84 | 36 | 9 | 23 |
| 27 | 76278 | 301 | 37 | 37 | 37 | 17 | 24 | 84 | 37 | 9 | 24 |
| 28 | 87324 | 311 | 38 | 38 | 38 | 18 | 25 | 84 | 38 | 9 | 25 |
| 29 | 99507 | 321 | 39 | 39 | 39 | 18 | 26 | 84 | 39 | 9 | 26 |
| 30 | 112899 | 331 | 39 | 39 | 39 | 19 | 26 | 84 | 39 | 9 | 26 |
| 31 | 127575 | 340 | 40 | 40 | 40 | 19 | 27 | 85 | 40 | 10 | 27 |
| 32 | 143611 | 350 | 41 | 41 | 41 | 20 | 28 | 85 | 41 | 10 | 28 |
| 33 | 161086 | 360 | 42 | 42 | 42 | 20 | 28 | 85 | 42 | 10 | 28 |
| 34 | 180080 | 369 | 43 | 43 | 43 | 20 | 29 | 85 | 43 | 10 | 29 |
| 35 | 200675 | 379 | 44 | 44 | 44 | 21 | 30 | 86 | 44 | 11 | 30 |
| 36 | 222956 | 389 | 45 | 45 | 45 | 21 | 30 | 86 | 45 | 11 | 30 |
| 37 | 247009 | 398 | 45 | 45 | 45 | 22 | 31 | 86 | 45 | 11 | 31 |
| 38 | 272921 | 408 | 46 | 46 | 46 | 22 | 32 | 86 | 46 | 11 | 32 |
| 39 | 300783 | 418 | 47 | 47 | 47 | 23 | 33 | 86 | 47 | 11 | 33 |
| 40 | 330686 | 427 | 48 | 48 | 48 | 23 | 33 | 87 | 48 | 12 | 33 |
| 41 | 362724 | 437 | 49 | 49 | 49 | 24 | 34 | 87 | 49 | 12 | 34 |
| 42 | 396992 | 447 | 50 | 50 | 50 | 24 | 35 | 87 | 50 | 12 | 35 |
| 43 | 433588 | 457 | 50 | 50 | 50 | 25 | 35 | 87 | 50 | 12 | 35 |
| 44 | 472611 | 466 | 51 | 51 | 51 | 25 | 36 | 87 | 51 | 12 | 36 |
| 45 | 514162 | 476 | 52 | 52 | 52 | 25 | 37 | 88 | 52 | 13 | 37 |
| 46 | 558343 | 486 | 53 | 53 | 53 | 26 | 38 | 88 | 53 | 13 | 38 |
| 47 | 605260 | 495 | 54 | 54 | 54 | 26 | 38 | 88 | 54 | 13 | 38 |
| 48 | 655018 | 505 | 55 | 55 | 55 | 27 | 39 | 88 | 55 | 13 | 39 |
| 49 | 707726 | 515 | 56 | 56 | 56 | 27 | 40 | 89 | 56 | 14 | 40 |
| 50 | 763494 | 524 | 56 | 56 | 56 | 28 | 40 | 89 | 56 | 14 | 40 |
| 51 | 822433 | 534 | 57 | 57 | 57 | 28 | 41 | 89 | 57 | 14 | 41 |
| 52 | 884658 | 544 | 58 | 58 | 58 | 29 | 42 | 89 | 58 | 14 | 42 |
| 53 | 950283 | 553 | 59 | 59 | 59 | 29 | 42 | 89 | 59 | 14 | 42 |
| 54 | 1019425 | 563 | 60 | 60 | 60 | 30 | 43 | 90 | 60 | 15 | 43 |
| 55 | 1092204 | 573 | 61 | 61 | 61 | 30 | 44 | 90 | 61 | 15 | 44 |
| 56 | 1168739 | 582 | 62 | 62 | 62 | 30 | 45 | 90 | 62 | 15 | 45 |
| 57 | 1249153 | 592 | 62 | 62 | 62 | 31 | 45 | 90 | 62 | 15 | 45 |
| 58 | 1333570 | 602 | 63 | 63 | 63 | 31 | 46 | 90 | 63 | 15 | 46 |
| 59 | 1422116 | 612 | 64 | 64 | 64 | 32 | 47 | 91 | 64 | 16 | 47 |
| 60 | 1514918 | 621 | 65 | 65 | 65 | 32 | 47 | 91 | 65 | 16 | 47 |
| 61 | 1612106 | 631 | 66 | 66 | 66 | 33 | 48 | 91 | 66 | 16 | 48 |
| 62 | 1713810 | 641 | 67 | 67 | 67 | 33 | 49 | 91 | 67 | 16 | 49 |
| 63 | 1820163 | 650 | 67 | 67 | 67 | 34 | 50 | 91 | 67 | 16 | 50 |
| 64 | 1931299 | 660 | 68 | 68 | 68 | 34 | 50 | 92 | 68 | 17 | 50 |
| 65 | 2047354 | 670 | 69 | 69 | 69 | 35 | 51 | 92 | 69 | 17 | 51 |
| 66 | 2168465 | 679 | 70 | 70 | 70 | 35 | 52 | 92 | 70 | 17 | 52 |
| 67 | 2294772 | 689 | 71 | 71 | 71 | 35 | 52 | 92 | 71 | 17 | 52 |
| 68 | 2426416 | 699 | 72 | 72 | 72 | 36 | 53 | 93 | 72 | 18 | 53 |
| 69 | 2563540 | 708 | 73 | 73 | 73 | 36 | 54 | 93 | 73 | 18 | 54 |
| 70 | 2706287 | 718 | 73 | 73 | 73 | 37 | 54 | 93 | 73 | 18 | 54 |
| 71 | 2854804 | 728 | 74 | 74 | 74 | 37 | 55 | 93 | 74 | 18 | 55 |
| 72 | 3009239 | 738 | 75 | 75 | 75 | 38 | 56 | 93 | 75 | 18 | 56 |
| 73 | 3169740 | 747 | 76 | 76 | 76 | 38 | 57 | 94 | 76 | 19 | 57 |
| 74 | 3336459 | 757 | 77 | 77 | 77 | 39 | 57 | 94 | 77 | 19 | 57 |
| 75 | 3509548 | 767 | 78 | 78 | 78 | 39 | 58 | 94 | 78 | 19 | 58 |
| 76 | 3689162 | 776 | 78 | 78 | 78 | 40 | 59 | 94 | 78 | 19 | 59 |
| 77 | 3875456 | 786 | 79 | 79 | 79 | 40 | 59 | 94 | 79 | 19 | 59 |
| 78 | 4068587 | 796 | 80 | 80 | 80 | 40 | 60 | 95 | 80 | 20 | 60 |
| 79 | 4268715 | 805 | 81 | 81 | 81 | 41 | 61 | 95 | 81 | 20 | 61 |
| 80 | 4476000 | 815 | 82 | 82 | 82 | 41 | 62 | 95 | 82 | 20 | 62 |
| 81 | 4690605 | 825 | 83 | 83 | 83 | 42 | 62 | 95 | 83 | 20 | 62 |
| 82 | 4912693 | 834 | 84 | 84 | 84 | 42 | 63 | 96 | 84 | 21 | 63 |
| 83 | 5142430 | 844 | 84 | 84 | 84 | 43 | 64 | 96 | 84 | 21 | 64 |
| 84 | 5379983 | 854 | 85 | 85 | 85 | 43 | 64 | 96 | 85 | 21 | 64 |
| 85 | 5625521 | 864 | 86 | 86 | 86 | 44 | 65 | 96 | 86 | 21 | 65 |
| 86 | 5879214 | 873 | 87 | 87 | 87 | 44 | 66 | 96 | 87 | 21 | 66 |
| 87 | 6141234 | 883 | 88 | 88 | 88 | 45 | 67 | 97 | 88 | 22 | 67 |
| 88 | 6411754 | 893 | 89 | 89 | 89 | 45 | 67 | 97 | 89 | 22 | 67 |
| 89 | 6690950 | 902 | 90 | 90 | 90 | 45 | 68 | 97 | 90 | 22 | 68 |
| 90 | 6978998 | 912 | 90 | 90 | 90 | 46 | 69 | 97 | 90 | 22 | 69 |
| 91 | 7276076 | 922 | 91 | 91 | 91 | 46 | 69 | 97 | 91 | 22 | 69 |
| 92 | 7582364 | 931 | 92 | 92 | 92 | 47 | 70 | 98 | 92 | 23 | 70 |
| 93 | 7898043 | 941 | 93 | 93 | 93 | 47 | 71 | 98 | 93 | 23 | 71 |
| 94 | 8223296 | 951 | 94 | 94 | 94 | 48 | 71 | 98 | 94 | 23 | 71 |
| 95 | 8558308 | 960 | 95 | 95 | 95 | 48 | 72 | 98 | 95 | 23 | 72 |
| 96 | 8903264 | 970 | 96 | 96 | 96 | 49 | 73 | 99 | 96 | 24 | 73 |
| 97 | 9258352 | 980 | 97 | 97 | 97 | 49 | 74 | 99 | 97 | 24 | 74 |
| 98 | 9623761 | 990 | 98 | 98 | 98 | 50 | 74 | 99 | 98 | 24 | 74 |
| 99 | 9999682 | 999 | 99 | 99 | 99 | 50 | 75 | 99 | 99 | 24 | 75 |