Jump to navigation
Jump to search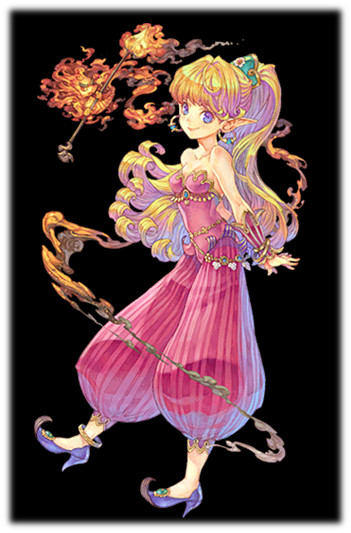 Primm (or Purim) is a 17 year old girl who comes from the kingdom of Pandora, and is one of the playable characters in Secret of Mana. Primm's default weapon is the glove. She is a typical support character, casting mainly defensive and healing spells while her combat ability ranks about average. Her stats are the most balanced between the three characters being more durable than the Sprite but not as physically powerful as the Boy. Her magic is largely defensive and healing in nature with the exceptions of Salamando and Lumina, who feature offensive magic.
Primm meets Randi briefly when he is ambushed by Goblins and saves him from being eaten. After they escape, she admits that she mistook him for someone else and disappears, only to appear again soon afterward. The location in which she reappears varies depending on the player's actions, but she is necessary to complete the Witch's Castle. She joins the party in either Pandora (after a scene where she fights with her father) or the Haunted Woods (after the player rescues her from two monsters).
Primm is in love with a Pandorian warrior named Dyluck who was ordered by the King of Pandora to apprehend the powerful witch Elinee. Angry with the King for sending her lover on a suicide mission and furious with her father for setting her up an arranged marriage, she rebels, leaves the castle, and joins Randi on his quest, hoping to save Dyluck.
While Randi is often reluctant, Primm is rash and very self-empowered, reacting strongly to chauvinism and male subjugation.
Undine
Gnome
Name
MP
Description
Name
MP
Description
Ice Saber
2
Weapons gain the power of water and can freeze the enemy.
Stone Saber
4
Weapons gain the power of earth and can petrify the enemy.
Remedy
1
Recover status.
Speed Up
3
Raises evade % and speeds up attack.
Cure Water
2
Recover HP.
Defender
2
Raises defense, decreasing damage.
Sylphid
Salamando
Name
MP
Description
Name
MP
Description
Thunder Saber
3
Weapons gain the power of wind.
Flame Saber
2
Weapons gain the power of fire and can engulf the enemy.
Balloon
2
Lowers wisdom and confuses enemy.
Fire Bouquet
3
Lowers enemies battle power and damages them.
Analyzer
1
Detects traps and enemies statistics.
Blaze Wall
4
Wall of fire engulfs and damages enemy.
Luna
Dryad
Name
MP
Description
Name
MP
Description
Moon Saber
3
Weapons gain the power to steal HP.
Revivifier
10
Revives a dead character.
Lunar Boost
2
Raises battle power.
Wall
6
Protects against magic.
Moon Energy
2
Raises critical hit %.
Mana Magic
1
It's a secret.
Lumina
Name
MP
Description
Light Saber
5
Weapons gain the power of light.
Lucent Beam
8
Hit enemy with pure light, damaging them.
Lucid Barrier
4
Protects against physical attacks.
Experience levels
[
edit
]
| Level | XP | HP | MP | Strength | Agility | Constitution | Intelligence | Wisdom | Hit | Defense | Evade | Magic Defense |
| --- | --- | --- | --- | --- | --- | --- | --- | --- | --- | --- | --- | --- |
| 01 | 0 | 45 | 8 | 10 | 10 | 12 | 7 | 15 | 77 | 12 | 2 | 15 |
| 02 | 16 | 52 | 8 | 11 | 11 | 12 | 8 | 16 | 77 | 12 | 2 | 16 |
| 03 | 47 | 59 | 8 | 12 | 11 | 13 | 9 | 17 | 77 | 13 | 2 | 17 |
| 04 | 105 | 67 | 8 | 13 | 12 | 13 | 10 | 17 | 78 | 13 | 3 | 17 |
| 05 | 204 | 74 | 9 | 14 | 13 | 14 | 10 | 18 | 78 | 14 | 3 | 18 |
| 06 | 363 | 82 | 9 | 14 | 14 | 14 | 11 | 19 | 78 | 14 | 3 | 19 |
| 07 | 602 | 89 | 9 | 15 | 14 | 15 | 11 | 20 | 78 | 15 | 3 | 20 |
| 08 | 945 | 97 | 10 | 16 | 15 | 15 | 12 | 21 | 78 | 15 | 3 | 21 |
| 09 | 1418 | 104 | 10 | 16 | 16 | 16 | 13 | 22 | 79 | 16 | 4 | 22 |
| 10 | 2049 | 112 | 11 | 17 | 17 | 17 | 13 | 22 | 79 | 17 | 4 | 22 |
| 11 | 2870 | 119 | 11 | 18 | 17 | 17 | 14 | 23 | 79 | 17 | 4 | 23 |
| 12 | 3914 | 127 | 11 | 18 | 18 | 18 | 15 | 24 | 79 | 18 | 4 | 24 |
| 13 | 5218 | 134 | 12 | 19 | 19 | 19 | 15 | 25 | 79 | 19 | 4 | 25 |
| 14 | 6819 | 142 | 12 | 20 | 20 | 19 | 16 | 26 | 80 | 19 | 5 | 26 |
| 15 | 8759 | 149 | 13 | 21 | 20 | 20 | 17 | 27 | 80 | 20 | 5 | 27 |
| 16 | 11080 | 157 | 13 | 21 | 21 | 21 | 17 | 28 | 80 | 21 | 5 | 28 |
| 17 | 13827 | 164 | 14 | 22 | 22 | 21 | 18 | 28 | 80 | 21 | 5 | 28 |
| 18 | 17049 | 172 | 14 | 23 | 23 | 22 | 18 | 29 | 80 | 22 | 5 | 29 |
| 19 | 20794 | 180 | 15 | 23 | 23 | 22 | 19 | 30 | 80 | 22 | 5 | 30 |
| 20 | 25115 | 187 | 16 | 24 | 24 | 23 | 20 | 31 | 81 | 23 | 6 | 31 |
| 21 | 30065 | 195 | 16 | 25 | 25 | 24 | 20 | 32 | 81 | 24 | 6 | 32 |
| 22 | 35701 | 202 | 17 | 26 | 26 | 24 | 21 | 33 | 81 | 24 | 6 | 33 |
| 23 | 42081 | 210 | 17 | 26 | 26 | 25 | 22 | 34 | 81 | 25 | 6 | 34 |
| 24 | 49265 | 217 | 18 | 27 | 27 | 26 | 22 | 34 | 81 | 26 | 6 | 34 |
| 25 | 57316 | 225 | 19 | 28 | 28 | 26 | 23 | 35 | 82 | 26 | 7 | 35 |
| 26 | 66298 | 233 | 19 | 28 | 29 | 27 | 24 | 36 | 82 | 27 | 7 | 36 |
| 27 | 76278 | 240 | 20 | 29 | 29 | 28 | 24 | 37 | 82 | 28 | 7 | 37 |
| 28 | 87324 | 248 | 21 | 30 | 30 | 28 | 25 | 38 | 82 | 28 | 7 | 38 |
| 29 | 99507 | 256 | 22 | 31 | 31 | 29 | 25 | 39 | 82 | 29 | 7 | 39 |
| 30 | 112899 | 263 | 23 | 31 | 32 | 30 | 26 | 39 | 83 | 30 | 8 | 39 |
| 31 | 127575 | 271 | 23 | 32 | 32 | 30 | 27 | 40 | 83 | 30 | 8 | 40 |
| 32 | 143611 | 278 | 24 | 33 | 33 | 31 | 27 | 41 | 83 | 31 | 8 | 41 |
| 33 | 161086 | 286 | 25 | 33 | 34 | 32 | 28 | 42 | 83 | 32 | 8 | 42 |
| 34 | 180080 | 294 | 26 | 34 | 35 | 32 | 29 | 43 | 83 | 32 | 8 | 43 |
| 35 | 200675 | 302 | 27 | 35 | 36 | 33 | 29 | 44 | 84 | 33 | 9 | 44 |
| 36 | 222956 | 309 | 28 | 35 | 36 | 34 | 30 | 45 | 84 | 34 | 9 | 45 |
| 37 | 247009 | 317 | 29 | 36 | 37 | 34 | 31 | 45 | 84 | 34 | 9 | 45 |
| 38 | 272921 | 325 | 30 | 37 | 38 | 35 | 31 | 46 | 84 | 35 | 9 | 46 |
| 39 | 300783 | 332 | 32 | 38 | 39 | 36 | 32 | 47 | 84 | 36 | 9 | 47 |
| 40 | 330686 | 340 | 33 | 38 | 39 | 36 | 32 | 48 | 84 | 36 | 9 | 48 |
| 41 | 362724 | 348 | 34 | 39 | 40 | 37 | 33 | 49 | 85 | 37 | 10 | 49 |
| 42 | 396992 | 355 | 35 | 40 | 41 | 38 | 34 | 50 | 85 | 38 | 10 | 50 |
| 43 | 433588 | 363 | 37 | 40 | 42 | 38 | 34 | 50 | 85 | 38 | 10 | 50 |
| 44 | 472611 | 371 | 38 | 41 | 42 | 39 | 35 | 51 | 85 | 39 | 10 | 51 |
| 45 | 514162 | 379 | 39 | 42 | 43 | 40 | 36 | 52 | 85 | 40 | 10 | 52 |
| 46 | 558343 | 386 | 41 | 43 | 44 | 40 | 36 | 53 | 86 | 40 | 11 | 53 |
| 47 | 605260 | 394 | 42 | 43 | 45 | 41 | 37 | 54 | 86 | 41 | 11 | 54 |
| 48 | 655018 | 402 | 44 | 44 | 45 | 42 | 38 | 55 | 86 | 42 | 11 | 55 |
| 49 | 707726 | 410 | 46 | 45 | 46 | 42 | 38 | 56 | 86 | 42 | 11 | 56 |
| 50 | 763494 | 417 | 47 | 45 | 47 | 43 | 39 | 56 | 86 | 43 | 11 | 56 |
| 51 | 822433 | 425 | 49 | 46 | 48 | 43 | 39 | 57 | 87 | 43 | 12 | 57 |
| 52 | 884658 | 433 | 51 | 47 | 48 | 44 | 40 | 58 | 87 | 44 | 12 | 58 |
| 53 | 950283 | 441 | 53 | 47 | 49 | 45 | 41 | 59 | 87 | 45 | 12 | 59 |
| 54 | 1019425 | 449 | 55 | 48 | 50 | 45 | 41 | 60 | 87 | 45 | 12 | 60 |
| 55 | 1092204 | 457 | 57 | 49 | 51 | 46 | 42 | 61 | 87 | 46 | 12 | 61 |
| 56 | 1168739 | 464 | 59 | 50 | 51 | 47 | 43 | 62 | 87 | 47 | 12 | 62 |
| 57 | 1249153 | 472 | 61 | 50 | 52 | 47 | 43 | 62 | 88 | 47 | 13 | 62 |
| 58 | 1333570 | 480 | 64 | 51 | 53 | 48 | 44 | 63 | 88 | 48 | 13 | 63 |
| 59 | 1422116 | 488 | 66 | 52 | 54 | 49 | 45 | 64 | 88 | 49 | 13 | 64 |
| 60 | 1514918 | 496 | 68 | 52 | 54 | 49 | 45 | 65 | 88 | 49 | 13 | 65 |
| 61 | 1612106 | 504 | 71 | 53 | 55 | 50 | 46 | 66 | 88 | 50 | 13 | 66 |
| 62 | 1713810 | 511 | 74 | 54 | 56 | 51 | 46 | 67 | 89 | 51 | 14 | 67 |
| 63 | 1820163 | 519 | 76 | 55 | 57 | 51 | 47 | 67 | 89 | 51 | 14 | 67 |
| 64 | 1931299 | 527 | 79 | 55 | 57 | 52 | 48 | 68 | 89 | 52 | 14 | 68 |
| 65 | 2047354 | 535 | 82 | 56 | 58 | 53 | 48 | 69 | 89 | 53 | 14 | 69 |
| 66 | 2168465 | 543 | 85 | 57 | 59 | 53 | 49 | 70 | 89 | 53 | 14 | 70 |
| 67 | 2294772 | 551 | 88 | 57 | 60 | 54 | 50 | 71 | 90 | 54 | 15 | 71 |
| 68 | 2426416 | 559 | 92 | 58 | 61 | 55 | 50 | 72 | 90 | 55 | 15 | 72 |
| 69 | 2563540 | 567 | 95 | 59 | 61 | 55 | 51 | 73 | 90 | 55 | 15 | 73 |
| 70 | 2706287 | 575 | 99 | 59 | 62 | 56 | 52 | 73 | 90 | 56 | 15 | 73 |
| 71 | 2854804 | 583 | 99 | 60 | 63 | 57 | 52 | 74 | 90 | 57 | 15 | 74 |
| 72 | 3009239 | 591 | 99 | 61 | 64 | 57 | 53 | 75 | 91 | 57 | 16 | 75 |
| 73 | 3169740 | 599 | 99 | 62 | 64 | 58 | 53 | 76 | 91 | 58 | 16 | 76 |
| 74 | 3336459 | 606 | 99 | 62 | 65 | 59 | 54 | 77 | 91 | 59 | 16 | 77 |
| 75 | 3509548 | 614 | 99 | 63 | 66 | 59 | 55 | 78 | 91 | 59 | 16 | 78 |
| 76 | 3689162 | 622 | 99 | 64 | 67 | 60 | 55 | 78 | 91 | 60 | 16 | 78 |
| 77 | 3875456 | 630 | 99 | 64 | 67 | 61 | 56 | 79 | 91 | 61 | 16 | 79 |
| 78 | 4068587 | 638 | 99 | 65 | 68 | 61 | 57 | 80 | 92 | 61 | 17 | 80 |
| 79 | 4268715 | 646 | 99 | 66 | 69 | 62 | 57 | 81 | 92 | 62 | 17 | 81 |
| 80 | 4476000 | 654 | 99 | 67 | 70 | 63 | 58 | 82 | 92 | 63 | 17 | 82 |
| 81 | 4690605 | 662 | 99 | 67 | 70 | 63 | 59 | 83 | 92 | 63 | 17 | 83 |
| 82 | 4912693 | 670 | 99 | 68 | 71 | 64 | 59 | 84 | 92 | 64 | 17 | 84 |
| 83 | 5142430 | 678 | 99 | 69 | 72 | 64 | 60 | 84 | 93 | 64 | 18 | 84 |
| 84 | 5379983 | 686 | 99 | 69 | 73 | 65 | 60 | 85 | 93 | 65 | 18 | 85 |
| 85 | 5625521 | 694 | 99 | 70 | 73 | 66 | 61 | 86 | 93 | 66 | 18 | 86 |
| 86 | 5879214 | 702 | 99 | 71 | 74 | 66 | 62 | 87 | 93 | 66 | 18 | 87 |
| 87 | 6141234 | 710 | 99 | 72 | 75 | 67 | 62 | 88 | 93 | 67 | 18 | 88 |
| 88 | 6411754 | 718 | 99 | 72 | 76 | 68 | 63 | 89 | 94 | 68 | 19 | 89 |
| 89 | 6690950 | 726 | 99 | 73 | 76 | 68 | 64 | 90 | 94 | 68 | 19 | 90 |
| 90 | 6978998 | 734 | 99 | 74 | 77 | 69 | 64 | 90 | 94 | 69 | 19 | 90 |
| 91 | 7276076 | 742 | 99 | 74 | 78 | 70 | 65 | 91 | 94 | 70 | 19 | 91 |
| 92 | 7582364 | 750 | 99 | 75 | 79 | 70 | 66 | 92 | 94 | 70 | 19 | 92 |
| 93 | 7898043 | 758 | 99 | 76 | 79 | 71 | 66 | 93 | 94 | 71 | 19 | 93 |
| 94 | 8223296 | 766 | 99 | 76 | 80 | 72 | 67 | 94 | 95 | 72 | 20 | 94 |
| 95 | 8558308 | 774 | 99 | 77 | 81 | 72 | 67 | 95 | 95 | 72 | 20 | 95 |
| 96 | 8903264 | 782 | 99 | 78 | 82 | 73 | 68 | 96 | 95 | 73 | 20 | 96 |
| 97 | 9258352 | 790 | 99 | 79 | 83 | 74 | 69 | 97 | 95 | 74 | 20 | 97 |
| 98 | 9623761 | 795 | 99 | 79 | 84 | 74 | 69 | 98 | 96 | 74 | 21 | 98 |
| 99 | 9999682 | 800 | 99 | 80 | 85 | 75 | 70 | 99 | 96 | 75 | 21 | 99 |