Jump to navigation
Jump to search
This is the first game in the Serious Sam series. For other games in the series see the Serious Sam category.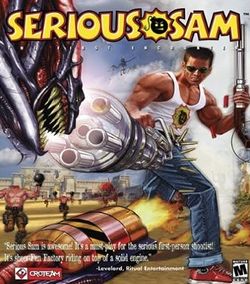 Serious Sam: The First Encounter was the first game in the Serious Sam series which had been in the making since 1996 and had a video showing its early game play in 2000.
In November 30, 2009, it was re-released under the name Serious Sam HD: The First Encounter, with updated artwork and graphics.
The game introduction reveals what happened before the game actually takes place: in ancient times, Earth was involved in a conflict between Mental and the Sirians, an alien race that left many of its artifacts to be found by humanity. In the 22nd century Mental's forces return to Earth hell-bent on eradicating humankind: as a last resort the usage of the "Time Lock" is decided: this Sirian device can send back through time a single individual who can, hopefully, defeat Mental and alter the course of history. Because of his bravery in fighting the monsters, Sam "Serious" Stone is chosen to use the "Time Lock". As the game opens, Sam appears in ancient Egypt: his travels from one Egyptian monument to the next, all the way fighting against the monsters Mental sent after him, make up most of the story of The First Encounter.
Table of Contents