Jump to navigation
Jump to search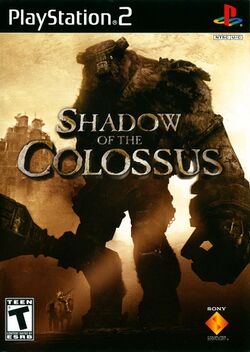 Neoseeker Related Pages
Links
Shadow of the Colossus is a videogame which was crafted by the makers of ICO. The game details the adventure of a young man who enters into a forbidden land filled with Colossi, in order to bring back the woman he loves from death.
The story itself is a fine one, though it is mostly untouched until the end of the game, where everything including the origin of the infamous horned boy from ICO is explained.
What truly sets Shadow of the Colossus apart from other games is not only the beautiful art – which is masterfully done – but the fact that outside of the bosses there is nothing else to fight. 16 Colossi await their demise as you journey the lands, and you will quickly discover that they are often riddled with their own style of puzzles on their very bodies, which you must figure out in order to defeat them.
An HD version of the game was released for the PlayStation 3 both as part of The Ico & Shadow of the Colossus Collection and as a PlayStation Network downloadable. An enhanced remake was released for the PlayStation 4.
Table of Contents