Jump to navigation
Jump to search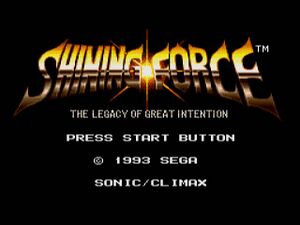 Shining Force: The Legacy of Great Intention, more commonly referred to as Shining Force, is a 1992 turn-based strategy role-playing video game for the Sega Genesis and later re-released in Sega Smash Pack 2. While primarily a traditional fantasy-themed game, it contains some steampunk elements.
The game was remade in 2004 for the Game Boy Advance under the title Shining Force: Resurrection of the Dark Dragon. The changes included expanded plot, new playable characters, increasing difficulty level (starting considerably low, but increasing whenever the player finishes the game and begins a new play), and some tweaks in the gameplay (including the ability of using "cards" in battle).
On July 10, 2007, Shining Force was released for the Wii Virtual Console in Japan, on July 23, 2007 in the United States and on August 3, 2007 in Europe, Australia and New Zealand. The game also appears in Sonic's Ultimate Genesis Collection for Xbox 360 and PlayStation 3.
In 2010, Shining Force was released for iPhone. In 2011, it was released on Steam.
Dark Dragon, who was defeated years ago by the ancients, has returned to earth. As the people have forgotten about him, they are unprepared for the invasion. Hordes of evil monsters were cast into the land. Max and his "Shining Force" are going to become the last hope of good and fight fiercely against Dark Dragon and his followers.
Box artwork
[
edit
]
Table of Contents