Jump to navigation
Jump to search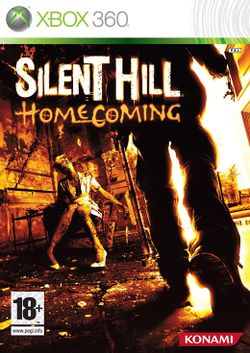 Silent Hill Homecoming is the sixth installment in the Silent Hill survival horror video game series, developed by Foundation 9 Entertainment and Double Helix Games. The game was announced on July 11, 2007 by Konami at their E3 press conference, and was originally entitled Silent Hill V.
The game was released on September 30, 2008 in North America for the Xbox 360 and PlayStation 3, and the Microsoft Windows version was released for North, Central and South America on November 6, 2008 exclusively through Valve's Steam digital content delivery service. All versions were simultaneously released in Europe, including a retail Windows version, in February 27, 2009. The game received mixed but generally good reviews from critics, with positive reaction to the graphics, audio and environments, and less favorable reaction to the game's plot and scenario, and some of the gameplay and horror elements; however, overall, reviewers were largely appreciative of the development of a main, home console installment of the franchise by an external Western developer.
This entry in the horror series follows the journey of protagonist Alex Shepherd, a soldier returning from war, to his hometown of Shepherd's Glen, where he finds the town in disarray, and his younger brother missing. As he continues on his search to find his younger brother, he discovers more about the Order — the cult of Silent Hill — as well as the town's history, and his own past.
Table of Contents