Jump to navigation
Jump to search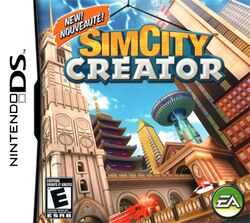 SimCity DS 2 is a city-building game for the Nintendo DS video game console. The follow up to SimCity DS, it was released in Japan on March 19, 2008. It was released in Europe, North America, and Australia under the name SimCity Creator in September 2008.
Building on the traditional SimCity formula, SimCity DS 2 offers a new Challenge Mode that sees players guide their city through different historical periods such as the Renaissance and Industrial Revolution in addition to the open-ended free play mode. Because of this, it is now possible to create cities with a historical theme. For instance, the player can create a medieval themed city, or a pre-historic themed city, and unlock famous landmarks as they progress through time.
Players are also now able to take pictures of their city and share them with friends through Wi-fi.
Table of Contents