Jump to navigation
Jump to search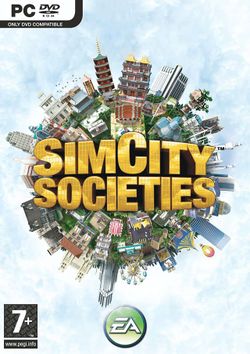 SimCity Societies is a city-building simulation computer game of Electronic Arts (EA) and is part of the Sim series. It was developed by Tilted Mill Entertainment and was released worldwide on November 13, 2007.
History
[
edit
]
On June 5, 2007, Tilted Mill Entertainment, creator of Caesar IV, announced that it would be developing SimCity Societies instead of Maxis, which had created all preceding titles.
In response to poor reviews, Tilted Mill created several game updates that added new content such as disasters, buildings and game scenarios. The latest game update contains all the content from the previous game updates as well. The update will also be included on Destinations
Comparison to SimCity 4
[
edit
]
Differences
In SimCity 4, you can view from four angles in give distances, while in Societies, you can view in any angle you want.
In Societies, there is no need to zone.
In Societies, you have a country road while in SimCity 4, it's a street.
Similarities
Putting long roads the old fashioned way - by dragging them.
Civic buildings are still built instantly.
You can still make bridges.
Natural gas plant, coal power plant, solar power plant and nuclear power plant.
Table of Contents