Jump to navigation
Jump to search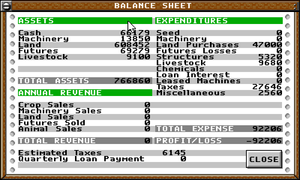 The Balance Sheet window details your financial changes since the start of the year. It can be opened from the WINDOWS dropdown, or by clicking

in the top toolbar.
The ASSETS section details the current value of everything you own that can be liquidated (somehow converted to cash).
The ANNUAL REVENUE section summarizes the amount of income you have actually made year-to-date (YTD).
The EXPENDITURES section summarizes the amount you've spent YTD.
PROFIT/LOSS is simply TOTAL REVENUE minus TOTAL EXPENSE.
Taxes are taken out immediately when a new year begins. The Taxes listed in your EXPENDITURES are the actual taxes that were deducted the previous Week 1 January. Estimated taxes are an estimate of the taxes you will be paying next year.
Quarterly payments are made on the first weeks of January, April, July, and October.