Jump to navigation
Jump to search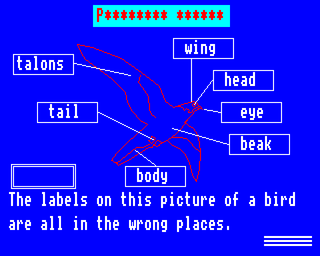 Note: The placements of the labels at the start of the challenge are randomly-generated (so it may not look exactly like it does in the above screenshot).
At the start of this challenge the text "P******** ******" will appear at the top of the screen with a picture of a bird that has seven wrongly-placed labels on it and the text "The labels on this picture of a bird are all in the wrong places." below it; once you've pressed Space to continue, the text "You have to help the children get all the labels in the right places." will appear at the bottom of the screen. Once you have pressed Space again, the text "Use the space bar to choose a label. Press the RETURN key to move it to the empty label box." shall get shown at the bottom of the screen - but the box in that bottom-left corner is only a spare to move the first chosen label to. For the first six labels moved to the right places, two of the asterisks at the top of the screen will transform into the letters er, eg, ri, ne, fa and lc respectively; however, if you should move a label that was in the right place back to a wrong one, the two most recent letters to get transformed will return to being asterisks. Once all seven labels have been moved to the right places (as seen in the image below), the last two asterisks will transform into the letters on (so the text at the top of the screen gives the bird's name as Peregrine falcon):
"Now all the labels are in their right
places," says Butch. "Definitely!"

"And look at the picture, it's the
bird we saw at the canal!"

"But the book says it's a peregrine
falcon, not a parakeet!" says Jackie.

"Let's go and tell Badger that he got
it wrong," says Butch.

As Jackie puts the bird book back in
its drawer, some pieces of paper fall
out. Jackie puts them into her pocket.

At that same moment, Mr. Trim appears.
"Give me those papers!" he shouts.
But Jackie is in a hurry.
"I'll be back later!" she calls out
as she runs from the shop.

Once you press Space for the eighth time, the game will proceed to the fifth challenge, which involves following Badger's path around a playground.